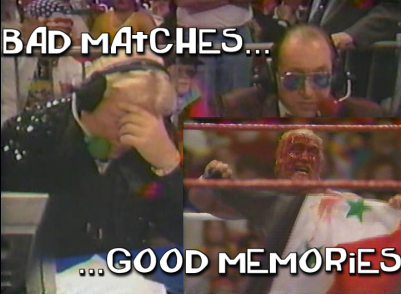 Kurt Angle vs. Samoa Joe

by Martin McHendry


Prologue…
Samoa Joe. Hottest thing in TNA. Made to look like a total monster, one third of the only 5-star rated match in TNA's history. It's hard to believe now, but this guy was a large part in people believing that TNA could be a viable alternative to WWE, at least in terms of entertainment rather than budget.
Joe was a breath of fresh air on a show that focused on wrestling. I had never seen him before TNA and I was blown away by the big guy who was way more athletic than he looked. The crowd, in those heady days before they used plants, would chant "Joe's gonna kill you!" – and you know what, watching him plow through the TNA roster week after week, I bloody well believed them! He went on a seventeen month undefeated streak, for God's sake! He was like a Goldberg that knew more than two moves.
Then there was (King) Kurt Angle, one of the greatest of all time. He could be a goofy heel, like his days with Austin and Edge & Christian or perform as a no-nonsense balls to the wall shoot wrestler, like he was used as in WWECW . He was fresh from a WWE release over health reasons, which he asked for. We know he's always suffered neck trouble, from his many, many "broken freakin' neck" speeches about his Olympic victory, but there were many rumours over pain pill abuse too related to that and so Angle's WWE contract was terminated on the 25th of August, 2006, on health grounds.
Kurt Angle made his TNA debut on the the 24th of September 2006.
Dixie Carter broke the bank to get him, and to keep it secret in the age of the internet was simply amazing. However, there were legitmate doubts over Angle's fitness to perform, and if TNA actually cared for his health. Since Angle didn't they didn't, I guess.
Joe and Angle went on to have their first match at Genesis 2007, with Angle winning in a fairly good 13+ minute match.

That's not what this is about though. I'm here to look at the "Winner Takes All" match, Joe/Angle II, at Hardcore Justice 2007.
Every TNA belt on the line. TNA's two top guys.
Joe held the X Division and Tag Team belts (yes, on his own), Angle had the World Heavyweight title and Antonio Inoki's Genome Federation rip-off of the IWGP Heavyweight Championship. Classic rematch, right? Stakes couldn't be higher! They can't fuck this up!
This Is TNA.
They add in Karen Angle and a divorce, um, angle (more on that later), and focus on her ditching Kurt. That's right, instead of focusing on the fact that every title is on the line for the first, and so far only time ever, in a match between two of the best in the world, TNA starts going the sports "entertainment" route.



Yeah, Joe says he's oming to take the IWGP belt, too – that was never mentioned again, despite having been many times before that week's Impact.
So, with all that thrilling crap out the way, and a horrible vision of TNA's future to boot, here's the match including the "hype" vid. Sadly, could only find the lot in Spanish, but it's worth it to see how ridiculous things were starting to get in TNA, what with Angle in his robe and thong… Besides, there may be folk who will enjoy that, who am I to deny them pleasure? Look out for the TNA crowd chanting "this is awesome" unironically at a series of choke holds and way too many shots of Karen and her new boyfriend, and of course, very little focus on the importance of what's at stake in a match that just didn't meet expectations or the level of their first encounter.
The Match…
The Aftermath…
The two went on to have a fairly decent feud, which sadly did not negate the stupidity of having one guy hold every title for far too long. Where once TNA had been on the cusp of something good, the alternative to an over-exposed Cena/Edge/HHH trifecta on Raw was now all-Angle, all the time.
Joe held the title for 182 days, and after dropping it to Sting, was then summarily shat on by TNA. It was to be the start of a loop for Joe of getting a monster push, then made a fool of, then into a monster push again. TNA took a greatly talented break out star who should have been one of the biggest of the noughties and somehow dropped the ball on him. The guy was so over WWE created Umaga so they could have their own Samoan psycho!
Sadly that was just the start of TNA's descent into WCW-ness…
As for Angle, where do you start? He dropped all those titles, slowly, over the summer of 06. We even got his first feud with Sting. How lucky for all of us dying to see Sting return. Again.
Angle later dropped his wife and kids to Jarrett, alledgedly stalked a Knockout and proceeded to win the TNA title another 9 million times.
Joe got Taz as a manager, found a really big, shiny knife, threatened Scott Steiner with it and was then kidnapped by ninjas in a van.
Coincidentally, that's when I stopped watching TNA, which turned into a retirement home for ex-WCW/WWE/ECW guys, people fired for wellness issues and wrestlers too small for Vince. Oh, they nearly signed Paul Heyman to run things, but Dixie wouldn't accept his demands that included being allowed to run the company, and getting rid of the useless old, washed up wrestlers in order to push exciting young talent like the Motor City Machine Guns and Beer Money, Inc. Instead she went for Hulk "I'm not attracted to my daughter" Hogan and Eric "Douchebag" Bischoff. I can only assume that worked out well, since TNA is on a quiz show channel in the UK and somehow still hasn't been shut down.

Their strategy of shitting on their biggest overseas market – the UK – by putting main event finishes on a show that wasn't broadcast here was especially cunning, I thought.
What about us fans? Stuck with WWE, or watching TNA and attempting not to vomit? I'm going to be honest, I get my fill of it from the Botchamania videos.
At least Ring of Honor appears to be on the up. Hopefully TNA can learn from them, but I doubt it.