AJ Styles starts the show and he's not happy about being called a liar on social media. All people with Southern accents sound like cowboys to me so Styles not appreciating that kinda talk makes it sound more meaningful. Cowboys are used to fighting to protect their name so out comes Roman to fill his hands. Styles denies he's part of some big plan with The Club to beat Roman, he can do that by himself thankyouverymuch. Roman doesn't care about all the titles Styles has won across his career as it's all about the title he holds. Styles interrupts his new catchphrase and tells the crowd Roman is The Guy…Styles is going to beat this Sunday. Ha! Gallows & Anderson show up which brings out The Usos which gets Styles punched and quick exits everywhere.
Styles is doing just enough to look cool without being a full-on bad guy but The Club give enough reason for people to boo him, and Reigns is the complete opposite: He's been given less to say (which is good) and is only being a dick to Styles because of the sneak attacks by The Club and the cheers for him are audible (when the booing stops). WWE's presenting them both as equals and both the matches and promos have been fun to watch and develop.
Sami Zayn vs. Cesaro
Here's the other main reason to watch Raw. Both Kevin Owens and The Miz are on commentary. Well good fucking luck keeping up with that. Zayn accidentally took out his then-tag partner Cesaro with the Helluva Kick to lose the match on SmackDown. The bickering between Owens and Miz is non-stop so there's no way I'm typing it all up (but it's fun) and the match only lasts thirty seconds before everyone starts brawling and the match is called off.
HERE COMES THE MONEEEY and Shane makes it a tag match but then WhateverTheLyricsToStephsSongAre kicks in and Steph mixes it to a tag match with Owens & Zayn vs. Cesaro & Miz. Oh and Owens isn't allowed to walk out on Zayn or he loses his shot in the four-way.
Sami Zayn & Kevin Owens vs. Cesaro & The Miz

Owens instantly hates teaming with Zayn. As the crowd chants "You Can't Wrestle!" at Miz, Owens bellows "Hear what they're chanting at you Sami?" The other team get at is as Miz tries the Giant Swing so Cesaro gives him the Skull-Crushing Finale until Zayn gets the pin. Owens immediately takes out Zayn and demands the ref hold his arm up because he won too.
Awesome stuff here from everyone involved. Felt like a well-scripted comedy sketch than a match as everyone failed at holding in their hatred for everyone else. The comedy, entertainment and action here have me hyped for Extreme Rules and hopefully the next five PPVs after this.
The Shining Stars vs. Scott Jackson (John Skyler) & Ryan Kennedy (Corey Hollis)
Here's The Shining Stars, the third package for The Colons. If it's not boxing I have no interest in Puerto Rico and this re-debut didn't help. Crowd were deader than Puerto Rico's bank account and the match didn't make them look impressive or interesting. On the plus side, their tag team finisher is Total Elimination, about time someone started re-using that.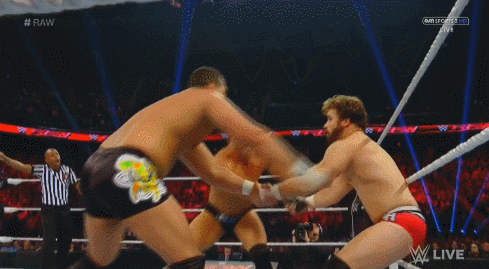 Dean Ambrose is in the ring hating Jericho for the beat-down in a strait-jacket on SmackDown. Ambrose is serious for this, which is when he's at his best, promising to go full-crazy on Jericho. Y2J shows up and is still pissed at Ambrose destroying his light-jacket from a week ago. "I'm a multi-millionaire but it was $15,000 which I'll take out of your ass." Ambrose tries to threaten him but Jericho's all "Simpsons did it" as he's seen it all before and has beaten them all before. So Ambrose brings down a cage (with it's own theme music) with an extra top bit and suspended weapons as the brand new ASYLUM MATCH. Ambrose hypes it and declares there's no escape. Good, escape rules are silly for cage matches. Ambrose promises Jericho will never eeeeevveeeerrr be the same again as Jericho looks worried.
Serious Ambrose is good, Prick Jericho is good, a cage has the potential to be good, having your own gimmick match is good. Having a mop and bucket as weapons in a serious match isn't good, but the good outweighs the negative. That theme music was straight out of Goosebumps though.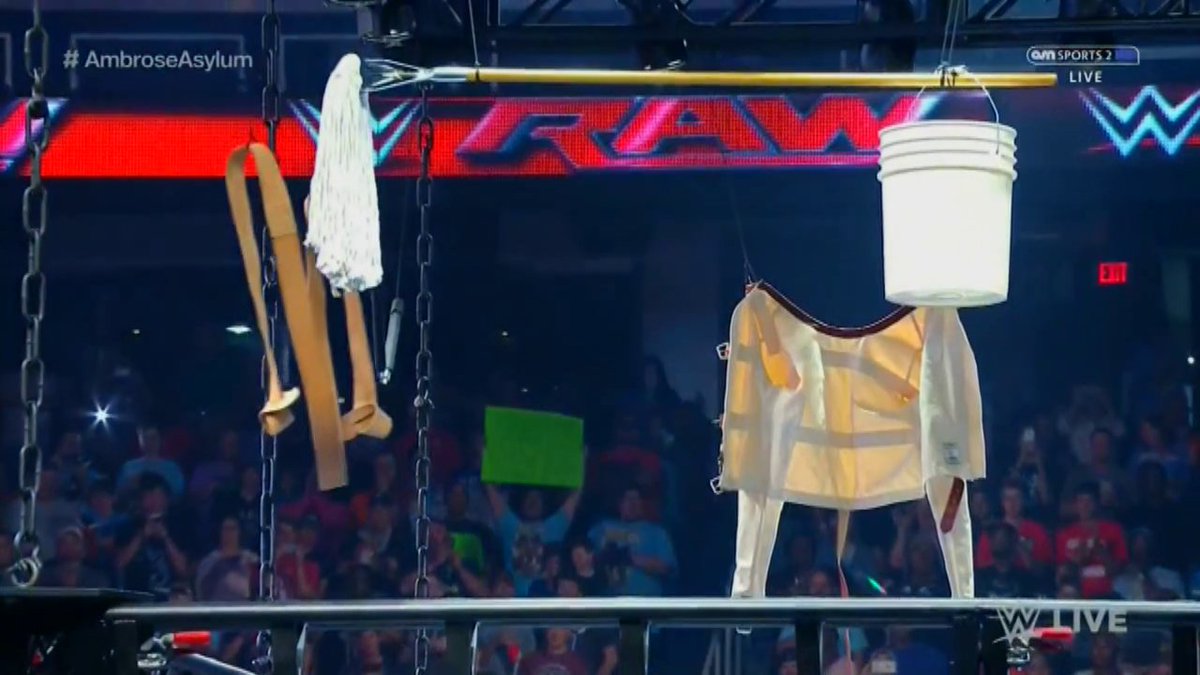 Becky Lynch vs. Dana Brooke
Dana Brooke's new theme is here. She had a backstage skit humiliating one of the nerdy white production guys but they're the same ones that are booty dancing with New Day so fuck 'em. Cole tells us Emma is injured. Oh? Did they bring up Dana to fill in Emma's absence or was that just good timing? JBL blames Becky for Emma's injury, hahaha. Dana's a bit like The Miz in that her main strength is her character rather than doing kicky flipflips so it's still early days as not all the Raw crowd know who the frig she is yet. She'll be alreet after she insults more nerds but right now her offence is the same as Create-A-Wrestler before you edit it.
Bob Backlund promises to make Darren Young again. BOB'S OLD AND DOESN'T KNOW WHAT SMART PHONES ARE! Yeah great, let's skip to the bit where Darren tells the old man he's gay and kicks off.
Promo package for The Golden Truth which has been in the works for FIVE MONTHS according to Cole. Fandango and Tyler turned on them both and joined forces on SmackDown.
Golden Truth vs. Fandango & Tyler Breeze
This could main event any Jakked/Metal in this country. Having said that, the crowd chants for Golden Truth because they've persisted for so long so there's that. It goes an epic two minutes until Truth accidentally kicks Goldust for Breeze to win.
Truth apologies to Goldust but he doesn't want none (he don't want none) until Fabreeze insult them and remind them it's a new era. Goldust is so annoyed by the awkward branding that he sticks with Truth.
The New Day are here with a new time machine! This is what happened to Family Matters once Urkel showed up.
They use it to go and see what the old-times the Vaudevillains were like. They don't go far enough and Kofi's old S.O.S. theme starts playing and he busts out the Jamaican accent! Sadly there's not a huge response from the young crowd. Ah fuck 'em.
Kofi: "No, leave me here! 2009 was my best year!"
They re-emerge with (black and white filter) with moustaches and no smart phones or booty. They ask they Xavier brought them to this terrible place but he explains it's because New Day will be WWE Tag Champions in any era. The Vaudevillains have enough and jump the friggers, even breaking the time machine.
I've nothing wrong with out-there segments if everyone knows it's a daft segment. New Day are the current kings of this type of thing, with Kenny Omega wrestling sex dolls a close second.
The Usos vs. Anderson & Gallows
Still no name for just Anderson & Gallows. FaBreeze get one. Just saying. Crowd's not into this as you'd expect and insist on chanting for Rollins. It doesn't help that Cole and JBL don't SHUT THE FUCK UP the whole match. It becomes white noise when they don't pause for breath. Good match with Usos keeping their Stupid Dives That Hurt Us More Than Our Opponents to a minimum. Crowd finally gets into it when the match is building to a crescendo and Usos get a win. They needed one after getting beat up by A & G so much. After kerfuffle after the match, Styles gets a chance to use a chair on Roman but hesitates again so Roman decks him. Roman goes to use the chair and doesn't hesitate so he twats Styles. A & G distract Roman giving Styles the time to recover and he wastes no time bashing fuck out of Roman and delivering the Styles Clash onto the chair. He's finally crossed the line and there's boos mixed with cheers.
I don't know why they've moved the main event feud to the main event of the second hour. Maybe this was the main course and everything else is dessert.
Big Cass vd. D-Von
Highlight was Cass having his intro interrupted, pinning D-Von after a minute and then finishing it. They've done a good job of keeping Cass warm since the Enzo injury.
Kalisto vs. Alberto Del Rio
This was a pretty good feud at the start of the year, shame Kalisto's stuck on "great match on PPV, fuck-all on TV". Hopefully getting beat up by Rusev and ADR will help. In a brilliant bit that I don't recall seeing before, they show Sin Cara watching the match backstage (stood up as always) and Rusev attacks him. ADR holds Kalisto up to the ropes so he has to see it. As soon as they left the League of Nations they became men again. Just ask Paige. Rusev drags Sin Cara all the way ringside and ADR back-crackers Kalisto for the win.
Oh and Dolph vs. Baron is happening at Extreme Rules Kickoff and it'll be No DQ. Hype.
Steph and Shane and Charlotte and Flair and Natalya do the contract signing and oh God I've had it. Eventually Steph slaps Flair and the match is on. It's the third hour and I've been clock-watching ever since Reigns/Styles.
Overall: Still constantly entertaining and built around feuds that are hitting more missing. Raw's great I'm tired fuck this typing and I leave you with time-travelling Big E.