It's the gimmick PPV that everyone agrees shouldn't be an annual event BUT IT IS ANYWAY so that aside here's my lovely Soundclound version of events:
And for those that don't care for my Geordie-by-way-of-Durham dulcet tones, here's a text rundown:
Roman Reigns vs. Rusev (U.S. Title, Hell In A Cell)
One of the biggest negatives of HIAC nowadays (aside from it's blood-less and an annual event) is most of the matches have to stick to the formula of start off slow, kick out of finishers that everyone (not named Brock) has to adhere to. So like last year's Roman/Wyatt feud, we're told how personal this feud has become but both men wrestle like it's a normal match instead of tearing each other's throats out. Roman's still a dick, Rusev's still a family man and Reigns kicks out of finishers like they're failed piss tests. Reigns retained after a spear and no way should this have opened a show or been in a Cell. You can't just throw a Cell at a dead feud and expect results as December To Dismember proved ten years ago.
Bayley vs. Dana Brooke
Match was set up with Brooke pinning Bayley clean on Raw because she missed the ropes for a dirty pin. Only in wrestling can you fuck up and get rewarded. Crowd's mild but they've just watched a HIAC match so duh. Brooke is still un-ready for anything major so this is was a basic as hell match. Despite Brooke working over her arm for the whole match Bayley hit a Bayley-To-Bayley anyway because people were on their phones for this thing anyway so why not?
Enzo & Cass v. Karl Anderson & Luke Gallows
Enzo & Cass continue to be over as fuck without having much to do. Gallows & Anderson are the whipping boys of the tag division because Golden Truth don't appear on PPV, which is a shame given how hot the Club vs. Samoans feud was a few months ago. Anyway, crowd loves Enzo & Cass and Enzo makes for a great projectile until Gallows & Anderson get the pin after the Magic Killer and everyone went "oh" and moved on.
Jericho ruined exposition-mania backstage to put people on the list and remind us all he's one of the highlights of WWE.
Kevin Owens v. Seth Rollins (Universal Title, Hell In A Cell)
Despite the feud not being gangbusters (Triple H is still the main point of the feud and it's hard to cheer for Rollins because a bad guy turned on him and he does Frog Splashes) both guys went full-indie on this and it felt deserving of status of Main Event (unlike the Rusev vs. PLEASE CHEER Reigns opener). They made full use of the possible carnage resulting in multiple chair, table and dives into the Cell. Eventually Jericho got in but waited outside the ring in between moves like a good manager even though it was HELL IN A CELL but Owens won after a powerbomb through two chairs so maybe he had faith in his best friend. Worth a watch.
TJ Perkins vs. Brian Kendrick (Twink Title)
Corey Graves: "The Cruiserweights can only be seen on Monday Night Raw!"

And NXT, that other show you commentate for. Oh and Superstars and Main Event too.
TJP did a normal backstage thing instead of being all nerdy which was welcome. Kendrick begging for TJP to let him win isn't Chinatown but I'll take it over "lol NES". If they put the same effort into writing a storyline as they did switching the ropes, the CWC would mean something. As it was, the crowd was dead as shit but they were following an action-packed Cell match so what the fuck. Shame, as the action was fine but the crowd being dead meant everyone got to hear one ringside fan shout "GET A FUCKING HAIRCUT, HIPPIE." Kendrick faked an injury and TJP fell for him like the stupidest idiot in all of Jerichoville. Graves: "Kendrick fooled each and every one of us!"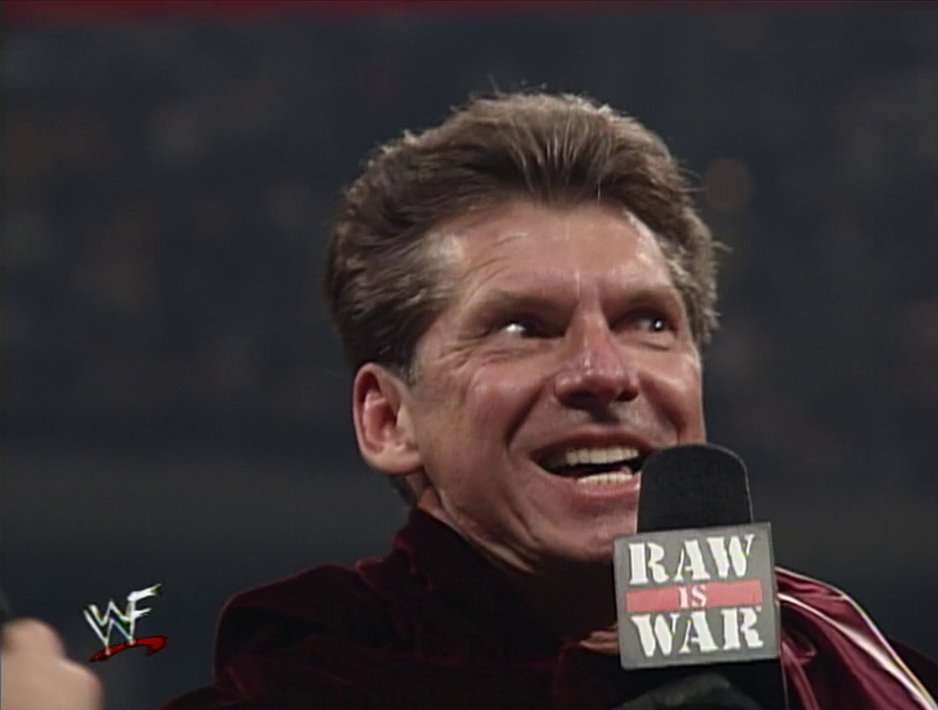 YOU ALL BOUGHT IT! YOU ALL BOUGHT IT! EVEN MY FAMILY! EVEN MY IMMEDIATE FAMILY BOUGHT IT!
The New Day vs. Sheamus & Cesaro (Raw Tag Titles)
Fine opening chapter of something that might grow into something special later, but as it was this was filler. Good filler, but not even Cesaro's mom thought he was winning tonight. All guys are fun to watch even in filler so no complaints, even if the Raw Tag Division is deader than Laura Palmer. Cesaro had the match nearly won with a Sharpshooter but Sheamus blasted Big E with Francesca II and Kofi interfered to cause a DQ. In his home town!
Sasha Banks vs. Charlotte (RAW Women's title, Hell in a Cell)
Charlotte attacked Banks before the Cell could go down and powerbombed her through the Spanish (edit: German) Announce Table at ringside. Because of her back injury problems (caused by wrestling Charlotte) Banks was stretchered out and the match was over BUT LIKE TNA SHE REFUSED TO DIE and Banks ran to the ring after being told she would lose the title. Which er didn't make any sense as the match hadn't started yet but wrestling's like Comic Books, rules get changed all the time. Banks kicked the hell out of the EMTs who were trying to remove her weave with the neck brace so that was a relief. Banks returned to the match and the two proceeded to have something that was close to an IWA-MS Death Match from ten years ago. They killed each other with risky-arse looking moves which I was happy with as it's Hell In a Cell (baaaybeeeee). Charlotte worked over Banks' back with a chair and moves which meant we got Celling, which was nice.
The one negative was Charlotte falling through a table which buckled and Banks didn't seem to know what to do. The answer was ANYTHING other than nothing, but whatever. They continued battering back and forth until Banks went for a Running Powerbomb but her back buckled and Charlotte wacked her over a table a few times for the win and the title. I enjoyed this a lot, table bit aside. It's staggering that WWE would still have the hometown favourite lose in the main event of the prestigious First Ever Female PPV Main Event but I'd still recommend the match because I am a cold-hearted cynic and don't mind that Sasha's weave issues make her look like the guy from Babylon Five.
Overall: The last two HIAC matches were worth watching but the rest was skippable. There shouldn't have been three Cell matches but I'd still prefer this to COTC. Give this a miss if you're from Boston though.