This is a positive article so instead of piling on Battleground being a shite PPV, let's focus on The New Day vs. The Usos! I enjoyed their Rap Battle (which seems to have divided people but I was howling at some of the rhymes and MegaRan was there too so fuck 'em) but The Usos have laid low since the American Alpha feud (where they killed them, bastards) so I'd forgotten they could have these move-filled bump-fests like they used to have with Harper & Rowan. Similarly, New Day are used so frequently for big pops and not-defending-titles that I forget they can go hell for leather when needed so this was a nice reminder. There's plenty to enjoy on Raw at the minute, lost in the confusion of the Jason Jordan storyline. Braun vs. Roman vs. Joe vs. Brock has been a blast in the ring, out the ring and on the mic, be it Braun killing a security guard or the three-way from 31/07/17 Raw. NXT has gone back to having a big-ass match every week after treading water for months. So we've had a succession of Asuka vs. Nikki Cross, Damo vs. Drew Galloway, Blast Corps vs. Authors of Pain and Ohno vs. Itami to encourage people to watch not just the Takeovers. Worked for me, I'd been skimming it for a while.
205 Live has also been better put together than Smackdown for the last few weeks and if that show had it's own Network Special Takeover Thing with Tozawa vs. Neville, Gulak vs. Ali and Alexander & Swann vs. TJP & Nese, it'd have blown away Battleground. They've managed to fuck up Gallagher vs. Kendrick somehow but whatever.
It's not all doom and gloom on Smackdown Live, the three-way Jericho vs. Owens vs. Styles was lots of fun so I'm guessing they didn't change the finish mid-match. Oh and we got the first ever Nakamura vs. Cena this week which might also be the last ever match if Nakamura does this.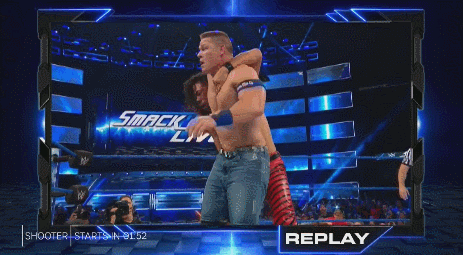 Promo Of The Week: "I'll never trust you"


Probably the best thing WWE is doing right now is Dean Ambrose and Seth Rollins, with Seth trying to be a good guy but Dean still remembers the events of 2014. Dean wanted nothing to do with Seth but still helped him out when The Miz and his crew were beating on him because the only thing he hates more than Seth is a un-fair fight BAH GAWD. This lead to them teaming up the following week and the will-they won't-they human drama has been the best reason to watch Raw every week. Oh and a massive shout-out to the Twin Peaks parody on Smackdown Live by the Fashion Police, doing a better job of making fun of Twin Peaks than Season 3.
Shite Of The Week: Battleground 2017
Battleground was last week and immediately received Worst PPV of 2017 So Far award from Wrestlecrap head honcho Justin Henry who also compared it to other famous bad PPVs like December To Dismember and TLCC 2014. Having the three main matches built around HEY HEY USA was weird at best and lazy at worst. The expected MOTN Styles vs. Owens apparently had the finish changed mid-match (!!) which explains why we somehow got the most average Styles vs. Owens match in history because this is wrestling and not improv night. Rusev vs. Cena was the worst Cena match in years thanks to a lazy feud and a daft match-type, not helped by Rusev setting the table near the podium and giving the finish away because Rusev doesn't know any moves that could be done off the table. The multi-women match is the only thing Smackdown Live seems to do with women in 2017 as there's been no real feuds since the brand split (unless you count Charlotte vs. They Call Themselves The Welcoming Committee which sputtered out rather than end) and WOOSH now Natalya is the main challenger. Good luck Nattie. The main event was hard to review as it was less a wrestling match and more like watching some people you don't really care about but don't hate compete on a gameshow like Crystal Maze or Gladiators. Mahal's guys took crazy bumps, the feud is hopefully over and Khali returned to plug Botchamania then leave so there was that.


I had the pleasure of attending Night Two of ICW's Shug's Hoose Party in Glasgow (Night One was sold out) and loved it. I'd read some of the reports from the always-fun ICW Fans FB Group so I wore shorts and my finest Chris Brookes shirt so I wasn't sweating through my arse. ICW's a funny one to review as it may be wrestling and it may feature UK wrestlers but it's not like other UK wrestling. In ICW-Land, it's 1999 every day but that's not a bad thing as there's some of the most passionate fans you'll ever have the pleasure of chanting shite alongside with. Nothing sums up the ICW fanbase then BT Gunn beating Kenny Williams to win the Zero-G title causing a fan to miss the rest of the show from tearing his neck and shoulder muscles celebrating the victory.
Also of note: Grado lost a Loser Leaves ICW match to Sha Samuels, Polo Promotions earned a title shot by beating all the Welsh Marauders in a 3-on-2 match and Joe Coffey retained the title against Jack Jester. In the most-talked about segment of the show, Session Moth Martina and Ravie Davie had a Scheme Wedding which was broken up by Bram (who hates weddings) and proceeded to fuck everyone up, not limited to throwing the vicar into the crowd and giving poor Davie a frigging haematoma so his face swelled up like Yoshihiro Takayama (pic here, not nice.). Davie eventually won the match but the Bram thing upset a bunch of people who came to watch wrestling that looks like wrestling and not wrestling that looks like a guy getting his head fuck-started. But it gave us this image:
Botch Of The Week: Nia Jax
Because someone made the pun "can't spell Botchamania without Nia."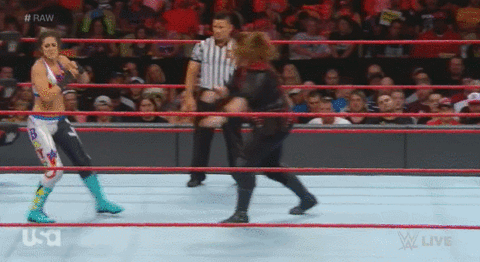 And in the interest of fairness here's me getting twatted in the face with an unrolled streamer by Mike Bird.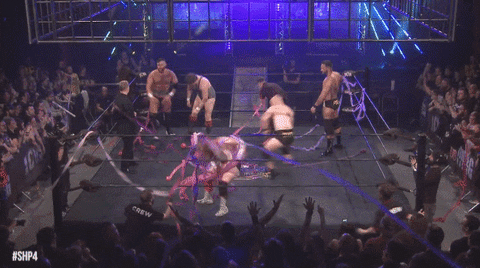 That's all for positivity and GIFs this week, until then here's the second greatest Smackdown Live theme