Herb Abram's UWF Fury Hour #4
October 22nd, 1990

Taped October 11th, 1990

Reseda Country Club

Reseda, California

Commentators: Herb Abrams & Bruno Sammartino
A fresh set of tapings for Herb and tonight (and the next few weeks) we'll be seeing Ivan Koloff, The Bounty Hunter, Nikia Koloff, David Sammartino, Cactus Jack, Ken Patera, Paul Orndorff and Bob Orton.




"The Russian Bear" Ivan Koloff vs. Stephen DeLeon
Uncle Ivan left JCP in '89 and was bouncing around companies like AWA, AJPW and everywhere else. Stephan Deleon is a jobber. Fake crowd noise is so pumped in to begin that you can't even hear the ref's count on the mat. Koloff is still in "top physical condition" insists Herb while Bruno diplomatically says he's been in a few wars. Methodical pounding action from Koloff with only a sloppy back-drop to break it up, until DeLeon tries a crossbody off the second rope and does a good a job as the Soviets did with Albania.
Koloff chokes away as the crowd boo the evil stinky pinko. Koloff drags him outside and beats him with one of those non-folding chairs. Ref does nothing so I assume those are legal under UWF rules. Koloff keeps on sneaking chokes while applying submissions and that's a dead art nowadays so it's fun to watch. Match continues longer than it should but Koloff makes up for it by flying off the top rope for the Russian Sickle.
Winner: Ivan Koloff (Koloff did a good job of getting boos from the crowd and I enjoyed the sneaky chokes even if he looked two hundred years old. Ivan whips Stephen with his chain afterwards and promises the same for Nikita if he doesn't show him respect.)
The Bounty Hunter (w/John Tolos) vs. Michael Moore
Bounty Hunter is a tall guy called Steve Slaymaker who amounted to nothing but he's a vehicle for Tolos anyway. Moore keeps on avoiding Hunter so he keeps going to Tolos for advice. Tolos holds Moore when he's in the corner which allows Hunter to get a running powerslam and after some more abuse, a running splash for the finish.
Winner: The Bounty Hunter (Simple squash for a debut. Post-match Tolos insults Moore and hurls him out the ring.)
"The Russian Nightmare" Nikita Koloff vs. Riki Ataki
This is during that weird part of Koloff's career where he denounced steroids and grew his hair out, only to re-join WCW in 1991 more muscly than ever. Ataki tries to sneak attack Nikita (sadly not resulting in any Pearl Harbour comments from Herb, he can't even do racism right) so he gets beat the fuck up and nearly gets decapitated with the Russian Sickle.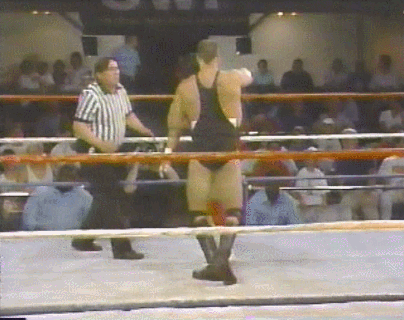 Winner: Nikita Koloff (Nice quick power squash for the good Koloff).
Ivan waddles out afterwards to wreck Nikita with a chain. That's a bit rough, he never gave him a chance to show respect!
David Sammartino vs. Cactus Jack (No Disqualification Match)
We get green-screen promos from both men and the less said about them the better. David might as well have repeated "please cheer for me" a dozen times and Cactus is still finding his feet (and teeth) on the mic. Cactus attacks David before he enters the ring and uses his jacket to choke him. Crowd loves Cactus and he's so much more exciting than the rest of the show it's easy to see why. Cactus sends David outside and clothesline him on the floor. David comes back with a big back drop on the concrete, which Cactus barely sells because he's a mentalist.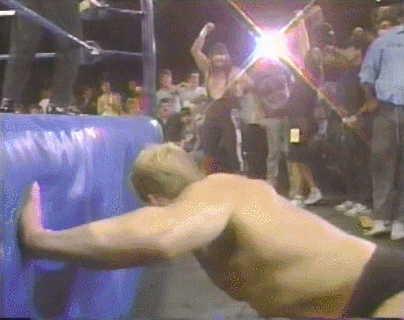 David wrecks Cactus with another non-folding chair which the crowd enjoys. David drags him back in and gives him two knee drops and Bruno's like "woah holy shit two knee drops this match is over" but Cactus low-blows him to Bruno's disgust. He thinks it should be DQ'd regardless of the No DQ. I can see Herb booking a DQ in this type of match. Cactus hurls trash at David as he's making money on the side reviewing wrestlers. Jack leg-drops David's crotch and you can hear the steam flying out of Bruno's ears. Cactus slaps David daft as David refuses to fall down. "He reminds me of Charles Bronson" says Herb. David tries to come back but while the ref admonishes him for hair-pulling, Cactus uses a hidden object to bonk David and pins him with his feet on the ropes.
Winner: Cactus Jack (Disjointed compared to Cactus' later brawls but the crowd were shitting themselves over everything Cactus did so this was great by UWF standards, dodgy reffing aside.)
Ivan and Nikita exchange green-screen promos and manage to both sound intimidating with Boris Badenov accents.
"The Olympic Strongman" Ken Patera vs. Robbie Allen
Oh no, not Patera. I've been told multiple times that Ken was good, but all I've ever seen is a mullet strong man version of Richard Simmons. Commentators talk about his strength and Silver Medal in the Olympics and all that as the crowd zones out. Basic strong man stuff until aftrr a few minutes the crowd start chanting "Jailbird!" at Patera. HAHAHAHAHAHAHA. It's so loud, Bruno has to stand up for him. "I don't think he was ever guilty, I got told a fan threw a rock through the window and Patera got the blame." What about assaulting a police officer then? Herb has to join in defending poor Patera too, he could have used them both when he was on trial. It's the front row that are ragging on him because you can see them all jumping up and down shouting it and Patera has to taunt them back. Patera finally submits Allen using the Full Nelson. Post-match Patera challenges Billy Jack and tells the crowd to go back to reform school.
Winner: Ken Patera (Match was nothing but the "Jailbird" chants and commentary were fucking hilarous. Best Patera match I've ever seen.)
Capt. Lou's Corner with Ken Patera
Oh great, back to back Patera promos. Lou calls him "The Man's Strongest Man" before sadly letting Patera talk. They end up jaw-jacking about Bruno, WWF and 1980 as like the rest of the show there's no rhyme or reason for anything happening. It's just wrestlers collecting a payday and waiting for Jakks Pacific action figure deals to be invented. Eventually the segment ends and these have been the worst bits of the show so far. Just give Albano some whiskey and give him a mic, don't try and have him interview people when all he does is cut them off. He's worse than Opie.
Paul Orndorff vs. "Cowboy" Bob Orton Jr.
This would have been a fine match five years ago. I could probably copy and paste that sentence on every match in UWF in fairness. In the highlight of the show, Orndorff makes his entrance to MC Hammer's Can't Touch This. Paul works over Orton's arm as Bob oversells it like a boss. Go back and watch some classic Orton in WWF and you'd swear he fathered Ziggler. Orton blocks a backdrop with a backslide and the crowd's hyped for a match going two minutes. Orndorff slams Orton, who immediately gets up then crouches down going "oooh me back." Then Orndorff gets distracted by the crowd so Orton suckerpunches him. Orton works away with punches as the crowd's boos grow and grow because they love Orndorff because he's an 80s guy that can still go. Orndorff blocks a backdrop with a low punch to punch Bob and he sells it like he's been shot in the eye.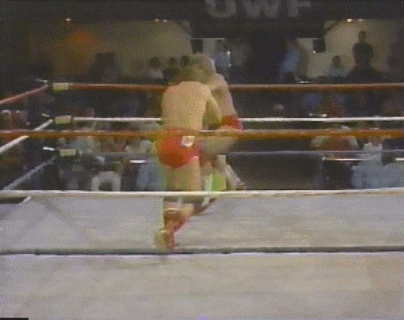 Orndorff sends him into the turnbuckles and Orton nearly falls out the ring. Orndorff hurls him over the top rope and this is like the greatest hits of Orton bumps. Orton tries to get back in but Orndorff bounces him out as he tries to get back in and wins via Count-Out, even though Bruno tries to make a thing of the ref messing up as the count should have reset when Orton was on the apron. I thought it was under the ropes but what do I know. Either way, Orton protests the finish because no-one loses clean in UWF main events so why should he?
Overall: There was some surprisingly decent stuff here by the standards of the show but we're four shows in and it's clear there's very little direction. We had Orndorff vs. Williams and then that ended in a Double Count Out, everyone's moved on and now it's Orndorff vs. whoever now. The Koloffs are feuding now but the whole show is "guys Herb could book doing stuff" and there's little reason to watch these every week unless there's nothing else on. Cactus Jack and Bob Orton were fine but so what?
Here's Meltzer's UWF news at the time:
10/22/90
– Although Rude quit WWF, he still has a year left on his completely valid contract, and so he won't be going anywhere else for the time being. Rumor is that he wants to join the new UWF because of the easier schedule. The NWA would really like Rude, but the WWF has already made it well known that they will strike down with great vengeance and furious anger on those who would attempt to breach their contracts. So Rick is gonna be sitting for a while.
– Herb Abrams did another taping on 10/11 in Reseda and it apparently went smoother than the first one, drawing 125 people. Herb is still really terrible on commentary.