After the fun and success of wXw's 16 Carat Gold, various members of the UK wrestling press were invited to cover the German Uber-Indie's second biggest weekend of the year, World Tag League. I was eager to join up with TheyCallThemselvesTheLads again because they're from reputable and respected wrestling sites like Voices Of Wrestling and I'm the guy putting Donkey Kong music over guys falling over so I always hope some of their respectability rubs off on me. Plus I made a complete dog's dinner of the journey last time as I treated travelling to Germany for an impressionable get-together like it was a trip to Leeds via the Megabus. The compassionate Allan Blackstock remembered I nearly ended up like Tom Hanks in The Terminal so sent me step-by-step instructions on how to use German trains, the only thing he left out was "don't walk on tracks, electricity is hot" so I made it to Oberhausen in better shape than last time. Which is more than can be said for Oberhausen, where it's easier to get a haircut at 1am than it is to get a taxi. No offence to Obi, but most wrestling events take place in the centre of somewhere civilised so there's stuff to do. wXw's mega-events happen in the middle of an industrial area with only McDonalds, Burger King and a kebab stand to keep you interested during the day. Plus as one wrestler described the area "Oberhausen is a place for old people to come to die, it's not for young people." So at least if something bad happens like the wXw events of old, they can hide the evidence in a nearby abandoned warehouse and pretend it didn't happen.



Thursday
The day before the Tag League started, wXw hosted an intimate show in their world-famous training facility in Essen. A few things need explaining here for newbies, wXw's reputation has sky-rocketed over the past few years because of how good their training school is (trainees live in the facilities and have daily sessions) and guys like Thatcher and CZW's Alexander James who came over for a short visit don't want to leave. Half the cast of this Inner Circle show were made up of people travelling from outside Germany, like Rafa (Portugal) and Jaxon Stone (Texas) and it really made you feel like you were watching diamonds slowly being crafted out of coal. This isn't wrestling, it's wXw wrestling and there was no better advertisement of this difference than the Ambition match between Thatcher and WALTER. Very roughly, it's "MMA-style wrestling", done in such in a realistic way that a headlock can end a match at any time if executed correctly. That brief description doesn't do it justice, but trust me when I say if you're a fan of technical wrestling then get any Ambition shit watched. It's one thing to have MMA-ish style grappling at the start of the match then end with a Shooting Star Press but it's another for everyone to be ultra-focused on a match that is the embodiment of the "human game of chess" Larry Zbyszko would always talk about. Plus, I love watching WALTER. Imagine if Kurt Angle and Brock Lesnar did the spirit dance and you're nearly there, a wrestler who will either win by submitting your or smashing your body into small pieces and making THOSE tap out.
The original plan for the show was to feature Bad Bones and The Crists but the bad weather cancelled North German trains and The Crists had a booking change. Apparently Dave Crist and David Starr were going to wrestle for TWO HOURS so I want to say for the first time "thank you GFW." The Crists were replaced with EYFBO which I was happy with, having seen them wrestle for Beyond and CZW and knew they'd be able to replace the big-bumping, high-flying style comfortably. They wrestled the new team of Francis Kaspin & Jay Skillet who are called Jay-FK, and every time their name got chanted someone (me) shouted "BANG!" because I'm not very mature. Anyway, EYFBO destroyed Jay-FK (BANG!) and won the crowd over, including our group who had no clue who they were and had to keep on asking what the name of the guy who looked like No Way Jose was. They then shook my hand and BOWED BEFORE ME because they enjoy Botchamania, which I'm thankful for because it caused our concierge guy to bug out. "They like your work, Matthew? I had no idea wrestlers knew you!" David Starr beat Homicide in the main event in a match that thankfully didn't go two hours. Highlight was the Germans wondering why Homicide had a picture of Chris Hero on his tights.
Thursday Evening

I went to bed, I'd been up since 5am getting the flight from Manchester so partying could politely fuck off until tomorrow.
Friday

Focusing on keeping the EuroPress happy, wXw head honcho Christian Jakobi hosted a breakfast for us all. Which I was late for as it was an hour and twenty minute walk which turned longer as Googlemaps kept on trying to get me to walk across the Autobahn. Like 16 Carat, we got the cool Media Centre set-up where we got to ask wrestlers things like we were CNN. Avalanche was first and despite playing a brutal character and he's a very meek beast in real life and the most we got out of him was his favourite film was Gran Turino. Jurn Simmons and David Starr (teaming as Massive Product) followed and were very entertaining:
Me: Jurn, how are you so confident?

Jurn: I don't give a shit.
Simmons shit all over the idea of Starr vs. Crist Two Hour Match, Starr tried to defend it but the discussion ended with Jurn calling Meltzer an idiot. Simmons talked about how he ate five raw eggs on TV recently for a grand. When discussing Dutch wrestling, Jurn explained he isn't involved with it much anymore but talked about how one of the number one guys since he's left is called Dr. Butt.
Hey after all that breakfast and press there was some wrestling! The Turbinenhalle looks unfinished from the outside but looks marvellous once the productions monkeys get stuck in. Hell, they may have the best set-up in all of European wrestling with only ICW's big, big shows rivalling them for prettiness. Oberhausen wrestling fans are interesting as they all chant in English and EVERYBODY gets polite applause. Even bad guys like Alexander James and Bobby Gunns get appreciation after cheating to win. They're a strange mix of the respectful American "let's politely appreciate" and the UK "let's chant for the guys we like" but they're all there to enjoy themselves and if they were dicks, I didn't understand them anyway.
The WTTL took place across two blocks using a point system rather than have a fifty match tournament, which was for the best. Here's a run-down of the teams:
A4 (Marius Al-Ani & Absolute Andy)

Andy's the fun-loving, donut eating veteran and Al-Ani is the freakish athletic guy.
Massive Product (Jurn Simmons & David Starr)

Jurn Simmons is a monster rookie renowned for his ultra-long air guitar entrances, David Starr is a swell guy who has around fifteen nick-names and makes the ring announcer say all of them.
wXw Tag Champs The Young Lions (Lucky Kid & Tarkan Aslan)

Representing the RISE stable (think wXw's Nexus) lead by World Champ Bad Bones. Both bearded, Lucky Kid is the happy one and Aslan is the miserable one.
The Rottweilers (Low Ki & Homicide)

Surely people know these two? Ki is still dressing as Hitman for some reason, complete with holsters.
The Briscoes (Jay & Mark)

Again, surely these guys need no introduction. Even though they don't have much "buzz" outside of ROH nowadays, literally everybody I spoke to was gushing over seeing them in the tournament. Why? "They're The Briscoes!"
Ring Kampf (WALTER & Timothy Thatcher)

The reason to watch wXw. Or mine, at least. Fucking love them.
The Spirit Squad (Kenny & Mikey)

Yeah, them. When asked why in the name of God they were booked, Jakobi responded "You can't eat rice pudding for three days straight."
EYFBO opened the tournament by re-introducing themselves to the non-Inner Circle crowd against The (very over) Rottweilers so everyone knows they were more than just "those guys from LAX." Crowd was all over Ki & Homicide though, with a bunch of fans happy to tell people around them that they were the first indie wrestlers they saw. Spirit Squad tried to work straight bad guys against The Young Lions which went over like a fart in Church as the RISE members are also straight bad guys so this was the worst match of the whole tournament. Solid and nothing went wrong but no-one gave a shit either.
Da Mack challenged Julian Nero to a match after Nero motivated Mack enough to think he could beat Avalanche (spoiler: he didn't) which was a bit of a weird set-up for a match. Didn't help that supposed good guy Da Mack got a mixed reaction, with some fans around me not interested in his forced good guy persona. Didn't help that he lost to Nero, especially after Nero missed the knee-drop by at least a foot and then tried to kick out (presumably so Nero could do it again) but failed, meaning Mack lost to air. Tremendous. Shout-out to Nero who looked right at me after the finish and shrugged.
Next A4 came out dressed as Batman & Robin (Adam West-era) for their match against Massive Product in the battle of the two teams that balance comedy and workrate well. The first match that felt like wXw at it's best, with Starr and Simmons able to overcome A4's array of demented double-teams (big fan of the elevated Atomic Drop) with the Spike Piledriver.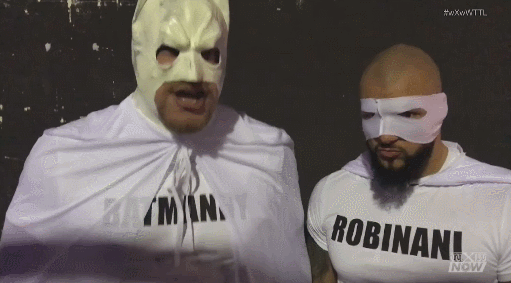 Next Ivan Kiev took on the used-to-be-a-bad-guy Avalanche (who can't stop getting cheered after that sweet match with Ilja) that felt predictable like most of RISE's matches as the whole crew was at ringside so the in-ring action was just killing time until the run-ins started. Avalanche won via DQ after the entire stable attacked, prompting Nero and Ilja to come to the save. Sadly they rejected Ilja's handshake, because wrestling sucks sometimes. Then it was main event time with Ring Kampf (which is German for "at least ****") taking on the very popular Briscoes. Worth mentioning the crowd sing Ring Kampf's theme song despite being New World Symphony 4th Movement. Easily the highlight of the Night 1 as both teams beat the piss out of each other as The Briscoes were able to absorb WALTER's trademark Hardest Chops In Wrestling but eventually fell to their double rear-naked choke onslaught. Worthy main event to get us ready for the afterparty.
Friday Evening
The afterparty that I'm not allowed to talk about! Aye, invite the press then ask for people to not talk about something, right OK pal. So instead of recapping Rico's Podcast (if you ask anyone that works for wXw, they'll go "what Rico Podcast?"), I'll shatter the tourist myth that German bier is "gut." Maybe the reasonably-priced stuff is but the fans were all drinking the cheapest stuff, so we got served the German equivalent to Morrison's Own with a giant foamy head. I enjoyed the Germany whiskey though, especially because when I was drinking it a (pissed) German fan asked me if I was going to get naked and start a rampage because I was English. He then missed his chair and fell on his arse. Also got to see fan interaction at it's finest:
Fan: Hey Jurn Simmons, you had a WWE try-out! Are you signed?

Jurn: No.

Fan: Oh come on, be honest!

Jurn: DO YOU THINK IF I WAS SIGNED TO WWE I'D BE TALKING TO YOU?
Saturday With A Sore Head
No breakfast for the hungover, which meant I sauntered to Netto for some of those cheap breads to soak up the remainder of Deutsche Whiskey so I could be ready for the Femme Fatales II tournament taking place before Night 2. Don't be fooled into thinking this was a sideshow though, with the likes of recognisable UK names like Viper, Toni Storm, Laura Di Matteo and Jinny this sobered me up better than any processed bread. Toni Storm triumphed which I was happy with until I found out she was twenty-one and felt once again like I'd wasted my life. Outside of the usual hard-hitting matches you'd expect from her and the others, the previously unknown-to-me Wesna took Toni through the crowd during a crazy brawl that saw several sections of chairs being downed like bowling pins. Crowd was respectful and the show was nearly as attended as the WTTL so well done wXw. Hell, some people thought it was better than Night Two of WTTL.
The Briscoes had another fine contest with EYFBO who were curtain-jerking once more. They're fine for that, waking the crowd up like a shot of jet fuel but the crowd weren't going to tolerate anything other than a chicken-farmer victory. Ivan Kiev defended his Shotgun title against Avalanche, Alexander James and Bobby Gunns which was a lot more fun than the previous night's singles match and it felt like those four-ways ROH would have on every show around 2003 (probably out of respect to Briscoes, Low Ki & Homicide).
Jinny said no-one compared to her in wXw so Killer Kelly came out to er lose to her. Crowd applauded Jinny because she had a point. A4 eventually defeated The Young Lions in a good but overlong match with the usual twenty interference attempts by RISE. The Lions seem like nice guys but this show didn't do much for their reputation win/loss wise and their double-team moves weren't in the same league as A4's. But never mind that, the other big deal tag match of the weekend was underway next as Ring Kampf took on Ki & Homicide. I wasn't raving about this as others were when it happened as there were lengthy crowd brawls that I couldn't see all of but watching it back on wXw Now with Alan & Rico going "well of course they'd brawl, they can't out-wrestle Ring Kampf" I enjoyed it a lot more. Maybe they would have been better in the ring though, Low Ki decided to give WALTER a double-stomp on the ramp from off the top rope and ended up fucking his leg up because WALTER is made of granite. A snapped leg is only a minor set-back for Low Ki though as he was able to hoist Thatcher up for the Doomsday Bulldog and win.
After that we got Massive Product vs. Spirit Squad so it was nice to get a break before the main event. In fairness, Squad realised being serious didn't work and stuck to hamming it up by rehashing Three Stooges bits and bringing up World War II. Served it's purpose, Spike Piledriver for the Massive Product win. In the biggest non-WTTL match of the weekend, Ilja challenged Bad Bones for the title. Ilja is arguably the most popular wrestler in the company thanks to his charisma, eagerness to take punishment and the theme song from Red Alert 3. Bad Bones is the leader of RISE but also a respected prick that the fans genuinely dislike "because he's not from the right part of Germany." RISE were barred from ringside, Ilja got beat up so badly his chest was the same colour as his manifesto and wrestlers emerged from the back to deal with the RISE overpopulation. So it looked like Ilja would win, just as Jurn had won at 16 Carat but then Da Mack showed up to strike Bad Bones…and then confessed to the ref he'd done it so the match ended via DQ. Judging by the reaction he was receiving yesterday, turning Da Mack was for the best and the crowd were absolutely ready to boo him unmercifully. Ilja didn't win the match but realised he needed his team-mates so reconciled with Cerberus to end the night.
Saturday Night Without A Sore Head
Maffew's favourite wXw wrestler (but don't tell the others) Dirty Dragan took the time to talk to me after the 2am podcast we did with Tim the German commentator and explained the difference between Germans and Dutch: Germans will do anything their boss asks but Dutch will always ask "why?" This kickstarted a long, philosophical discussion about wrestling and life so I missed the karaoke happening next door. I peaked last year with Bat Out Of Hell anyway, which Donovan Dijak recorded on his phone and now he's signed to WWE. Just saying. wXw were nice enough to have an area for people to party in on the Saturday, it allowed wrestlers to get drunk and socialise with some of the more normal fans. Or the nerdy ones at least, as I tried to ask Avalanche about what games he was currently playing and as soon he said "Gears of War", Jurn Simmons laughed at him for having a X-Box. Also got to see one of the (completely baked) members of Spirit Squad wave goodbye to a bunch of fans and mistook one of the wrestlers for one of them. When the wrestler explained who he was and that the Spirit Squad member had given him feedback today, he replied "oh you're a wrestler? Best of luck man!"
Sunday
The remaining Press Centres got jumbled around due to the bad weather messing everyone's schedule up but we got a few minutes with Christian Jakobi right after he announced the idea of Wrestling Deutschland next year, a multi-promotional show with each German wrestling promotion contributing one match. I immediately tweeted something saying "good luck!" which Jakobi asked me to explain, because the idea of companies in the UK working together like that would be impossible. Hell, very few wrestlers are linked to companies due to everyone working for anyone and the UK Press guys couldn't think of any example where they had worked together willingly. So Jakobi had to handle a lot of cynical questions from us wondering why the arguable most-known wrestling company would want to work with these smaller companies when it's not benefiting them, which Jakobi explained with sincerity he was doing for the image of wrestling in Germany as a whole. I want to believe him. He also said he was happy with the Spirit Squad's performance and the fact the crowd chanted "don't come back" at them, because many of the fans don't boo the bad guys because they're supposed to boo them. "Where's the fun in that?"
The second part of WTTL got the bad news out the way first, Low Ki was unable to compete due to trying to jump on WALTER and hurting his leg. That was a hell of a blow to Ki but a hell of a compliment to WALTER. No idea if this caused any change to the tournament, didn't think to ask. Speaking of bad news, Spirit Squad had their last match against A4 and was thankfully mostly a showcase for A4's team-based offence. Until…
Andy superkicked Al-Ani, giving Spirit Squad an unlikely win and breaking up the fan-favourite A4 tag team. No words were said, no explanation given, fuck you Andy. Crowd were stunned.
Thankfully the show went back to being happy as the fabulously manly team of Starr & Simmons (still managing to fit Joan Jett into their entrance) defeated The Young Lions. Fine action again marred by interferencemania running wild, however due to the loss the titles were stripped from TYL and it was announced the winners of the show would be declared the new champs. Bloody hell Young Lions, even The Spirit Squad walked away with a win.
EYFBO were willing crash test dummies for Ring Kampf. EYFBO weren't as over as they had been due to the reputation of Ring Kampf and them winning probably would have resulted in fan backlash for such a new team for wXw. Still, they got to tell Thatcher to "suck it" without getting a cease and desist (or getting killed) before WALTER's beautiful butterfly-suplex-into-powerbomb finished off Ortiz. "Please come back" chants for EYFBO, crowd happy to appreciate them knowing they weren't in Ring Kampf's way anymore.
Change in pace followed as the complete reunited Cerberus (Dirty Dragan, Ilja Dragunov, Julian Nero, The Avalanche and manager Adam Polak) brawled with RISE (Da Mack, Ivan Kiev, John Klinger & Pete Bouncer). Da Mack (described as "Robomack" by some nearby fans due to his mechanical way of talking) played the role of little shit very well and managed to avoid a kicking most of the match until Ilja eventually connected with Torpedo Moskau to the joy of the fans. Nero decided to fly off the apron with a front dropkick (!) and bust his head open on the concrete because there's not much else to land on in that position. More RISE members tried to interfere but Polak punched them out so Ilja could score a pin-fall over Bad Bones. Also worth nothing was this included Dragan in a serious match, something that never would have happened months ago when he was getting "you can't wrestle" chants. Now despite a complete lack of physique and mullet, he's like Santino in 2011 wrestling Daniel Bryan where the crowd enjoy his comedy AND think he can win.
Briscoe Brothers were out of a match due to Low Ki's injury so they wrestled the but-i'm-not-booked Jay FK in what was easily their biggest match to date so they were eager to impress. Skillet busted out something and I've not seen before and…ah fuck it I'll just GIF it.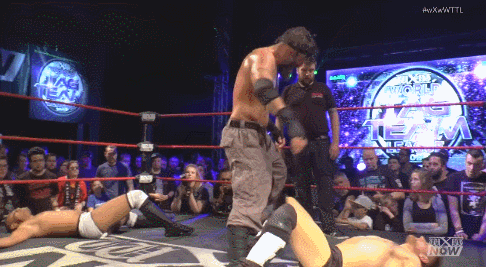 There were many times it looked genuinely like Jay FK were about to win but a Jay Driller made sure that wasn't going to happen. Homicide brawled with Gunns, who has had a Randy Orton-esque run of beating people this year so the chances of Homicide winning were slim. Not complaining though, the fork related offence and arse-first table moves were a welcome change of pace. Gunns pulled the splinters out his arse and won with a low blow and roll-up like a true twat. Homicide gave him the Cop Killer afterwards though and thanked the fans. "Brrrrrap!"
When the brackets were released, Ring Kampf vs. Massive Product looked like the most obvious final match-up and there's nothing wrong with going with the obvious when it involves four men who are going to go all out with the violence and kick-outs expected of a big indie tournament final. WALTER was able to deliver my favourite sequence in all of wrestling right now, the German Suplex disguised as a sleeper hold to massive Jurn:
After several HOW THE FUCK DID HE KICK OUT OF THAT moments, Thatcher finally made David Starr tap out to win the match, the WTTL and the tag team titles.
And that was the end of the wrestling. The UK press ended the weekend by eating a big meal and some last-minute "bier' while feeling happy that we were all wrestling fans because we never would have met each other in a strange place like Oberhausen. Then a waiter ruined the good vibes by coughing in my face when they were switching candles.
Overall: If the above sounds too critical it's only because that's how I was taught how to write about things you enjoy. Sometimes with all the Media Centres and running around it felt like a marathon rather than wrestling-watching but there's something really cool about being in this run-down area in a miserable town watching some of the best wrestling in the world. I'll never experience Viking Hall or CBGB in all it's glory so I'll settle for the tag teams at Turbinenhalle. Big thanks to the entire wXw crew for making us all feel important doing some of the things we enjoy the most.
For more coherent write-ups of the matches and/or podcasts in more depth, here's some cheeky plugs for the other press guys:
Thanks for reading (or skimming the words and enjoying the pictures & GIFs) for more info on wXw in English click here. See you at the next mega event.