I plan on watching Bound For Glory tomorrow so I may as well watch the Impact beforehand so I know what's happening. I haven't watched an episode in months because I wasn't enjoying it and people are more interested in reading about the backstage drama (which is pretty amazing, in fairness) than the on-screen product so here goes nothing. These types of write-ups result in people going YOU'RE AN IMPACT HATER so I'll remind people that Slammiversary was a sweet PPV and you should watch it. Or read this and be miserable, whatever.


We get a dramatic recap for Valkrye vs. Rosemary and then cut to a Border City Wrestling show in Canada. Wait what. Has the pre-taping gone that bad Impact has to rely on other companies for footage? It's Rosemary & Allie vs. KC Spinelli & Sienna but only Rosemary gets an entrance, which looks hikey. The crowd sounds alive and the camera is capable of showing all of the arena so it's not like Impact. Allie gets double-teamed until Rosemary makes the hot tag and knocks them both down with a Top Rope Crossbody. Fisherwoman's Buster gets a two count. I know who everyone is apart from KC because the others have had stints in TNA/GFW/Impact. Luckily the commentators don't explain who she is apart from someone making her Impact debut. KC hurls Rosemary off the top and dropkicks her into the corner. Sienna (who was the big deal in the women's division last time I was watching) works over Rosemary after recovering from a tarantula armbar. Rosemary does the cool I AIN'T DEAD recover that Wyatt or Balor should steal.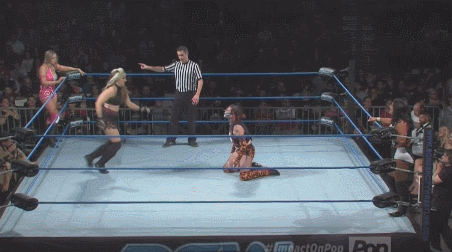 Hot tag to Allie and KC and this crowd is going comfortably nuts as KC kind-of connects with a dropkick. KC misses a kick and hits Sienna, allowing an Exploder/German Suplex combo for the win.
Winners: Rosemary & Allie (The weirdness of going to another company aside, crowd was making noise and R & A looked credible for their matches on Sunday so eh, can't hate it. They didn't mention what Allie was actually going to be doing on Sunday so *googles* oh it's Sienna vs. Allie vs. Gail Kim for the Knockouts Title. Wait, Sienna's the champ? You could've fucking mentioned that during the match. Ah, maybe she didn't bring the title with her so that's why she didn't get an intro. Impact makes detectives out of all of us. So that leaves Rosemary vs. Valkyrie-)
BREAKING NEWS
Ah, no it won't. Here's Impact's Twitter: "Due to circumstances beyond our control @TheTayaValkyrie will not be at #BFG2017 or the tapings. We look forward to seeing Taya in 2018."
OK the main event (I think) of the PPV is Moose & Stephen Bonnar vs. Lashley & King Mo in Six Sides of Steel. That's a lot of MMA dudes who were big names five years ago (or ten in the case of Bonnar). The MMA guys make the wrestlers look like the bad guys in the promo as they're sick of wrestlers invading their world. That'd make sense if they were feuding with Lashley but he's with America's Top Team who are apparently big-name MMA guys. We're in The Impact Zone now if you were trying to follow this in your head. Dan Lambert (MMA guy) gets the mic and shits over the wrestlers for being fake fighters. "Bobby and King Mo are two of the highest ranked MMA fighters today" Hahahaha."They're in the prime of their careers." HAHAHAHAHAHAAHA. Dan says Stephen Bonnar is known for being in a famous fight that he lost and the same is going to happen on Sunday but whereas the UFC rose in popularity after that fight, losing this time will kill Impact and the next time you all come to Universal Studios you're only going to see rollercoasters. OK, Dan has a career as a wrestling manager in front of him if that MMA thing doesn't work out.
Recap of Joseph Park getting Grado's VISA sorted out so he can stay in the USA. Where was he when Rockstar Spud needed him? Park exploited Grado for his moolah and used it on women so Grado got fed up and challenged him to a match but something something contract something it's Abyss.
Here's more info on that Spud stuff if you haven't heard:
Rockstar Spud parted ways with Impact Wrestling, and the reason behind the split is numbingly straightforward: mismanagement.




In an issue all too familiar for those who have followed Impact, company management–which occurred during the Dixie Carter regime and included the still-employed Bob Ryder–failed to properly fill out the paperwork for Spud's visa.




Spud is 34-year-old James Curtin, and Impact's failure to properly submit his visa paperwork eventually led to an inability to re-enter the United States. Spud had bookings lined up, but despite building a name and a brand, he could not enter the U.S. Since he could not work the Impact shows, Impact did not pay him.
Moose & Yuji Okabayashi vs. Katsuhiko Nakajima & Masa Kitamiya
And now we're in Japan for NOAH. This is a showcase for Moose and he looks like the best wrestler in the world here as he shows off his agility despite his size as the crowd chant his name. Hey if a Japanese name is chanting, you're doing good! Match goes back to normal with the other guys going at it but with no-one else in the match involved with Impact/BFG and this is being pre-taped they could have just cut the rest out. The people that care about Okabayashi and Kitamiya going at it are already downloading NOAH. Eventually Okabayashi wins with a splash, Moose wasn't involved in the finish. Barmy.
Eli Drake & Chris Masters show up at LAX's den and a truce is made so they can both get each other's opponents before BFG. OK. This would have been fine if they hadn't already announced the 6-man tag headliner earlier because even with nearly everything being pre-taped they still managed to fuck up the order of the announcements.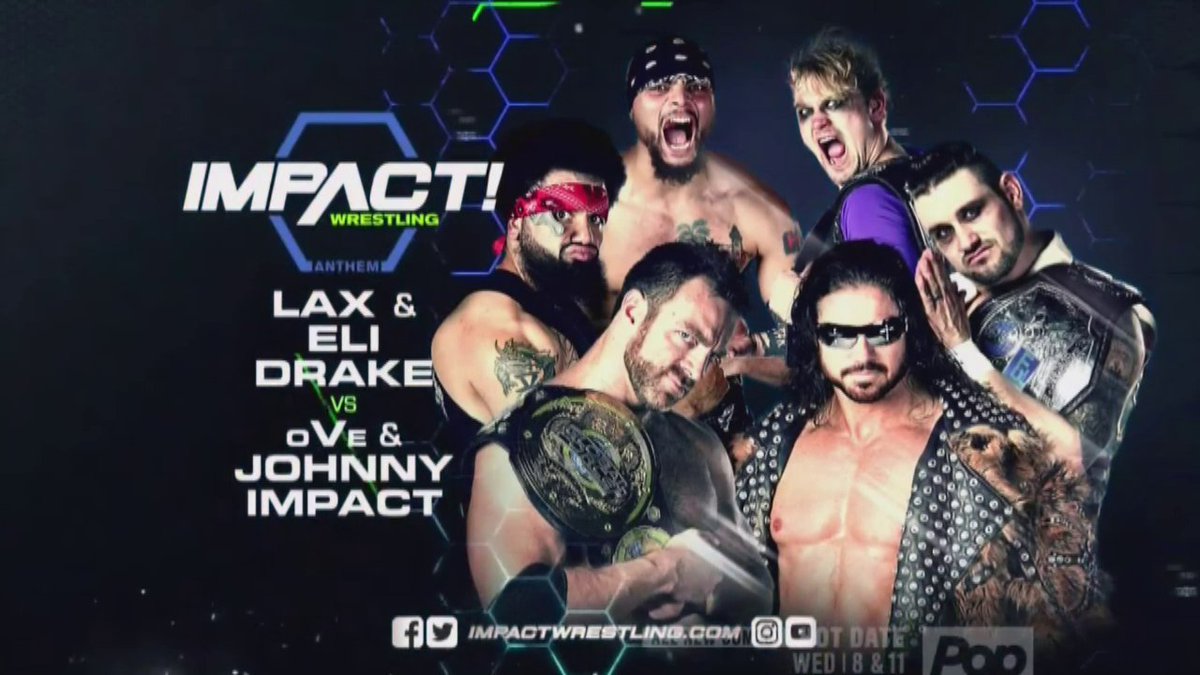 Recap of OVE beating LAX for the tag titles at Victory Road and Konnan demanding a rematch in a 5150 Street Fight. Well put together video package that emphasises the cool moves and violence both teams are known for so there's one thing going for the PPV.
Then a very similar video package for the X-Division Title match plays with soundbites from everyone and only Trevor Lee has anything interesting to say because there's no feud or reason other than the wrestlers talking about how much they love flips.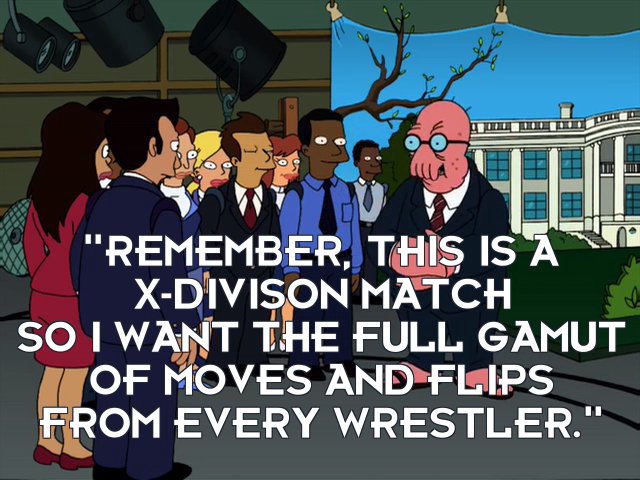 Trevor Lee vs. Dezmond Xavier vs. Sonjay Dutt vs. Petey Williams vs. Matt Sydal vs. Garza Jr.
Weirdly, this is the exact same match we're getting at BFG. No feuds, just flips. Am I fuck typing all the action up, Garza Jr. removes his kegs impressively though. They try having a one-on-one match while everyone waits outside like when one guys sells like death in a three-way, except this means four guys are awkwardly waiting outside like they've lost internet connection. Dutt (who had a genuine feud with Senshi earlier this year that was terrific) gets some stuff in and still looks great, as does Petey Williams who gets the Canadian Destroyer in. Shame he's lived long enough to see that finisher turn into a transitional move. Xavier dives onto the guys outside with an impressive megaflip. Lee's guys (Andrew Everett and Caleb Konley) try to help but fuck up and Xavier lands the moonsault kick to pin the champ.
Winner: Xavier (Way too many people for this to be anything other than a collection of moves, but the moves did look nice. Shame the company is putting over the moves more than the wrestlers though and now we've seen it, there's not much reason to watch the match on Sunday. Especially when the tag title match will feature similar action but will be a hell of a lot more organised.)
It's AAA vs. Impact at BFG with Hijo del Fantasma, Pagano and Texano taking on Eddie Edwards, Ethan Carter III and James Storm. Despite a video package, still not sure what the deal is or why they're feuding apart from all six men shouting THIS IS ABOUT RESPECT a lot. I don't watch AAA so I don't care. EC3 has a lot to carry.
Gail Kim is retiring at the end of the year so this could be her last match defending her title. I swear she's retired at least twice already. Maybe that's for the best, Impact have relied on Kim's reputation for years rather than for what she's actually doing. Crowd loves Kim however so what do I know. Allie's the better character but Sienna is the better wrestler.
LAX & Eli Drake vs. OVE & Johnny Impact
Ohio vs. Everything are The Crists/Irish Airborne, LAX is represented by Ortiz & Santana (the guys from EYFBO) so this is already interesting if you know your indies. Drake hides near the entrance ramp to attack Impact (John Morrison/Mundo) as he enters. Not sure how Drake has been as champ but I'm glad they've made the effort to have someone who's been with the company for years have the big belt rather than the latest guy to leave WWE (sup Del Rio). Impact flies off the top rope to the outside with a corkscrew moonsault to take us to break. When we're back, LAX have the advantage as the commentators talk about oVe's mysterious friend who will be showing up at BFG. I'm guessing it's going to be Sami Callihan then? Drake is able to muscle Jake Crist around like he's Scott Steiner which I've not seen from him before. It works though. Johnny Impact makes the hot tag and busts out all the Eddy Gordo offence he's renowned for as this turns into a moves orgy. LAX's "tour of Germany" gets mentioned on commentary, hey I was there for that! Impact rolls up Santana for the win but Masters and Drake attack him. LAX brawl with oVe to the back as Drake removes the ring mat and delivers The Gravy Train on Impact.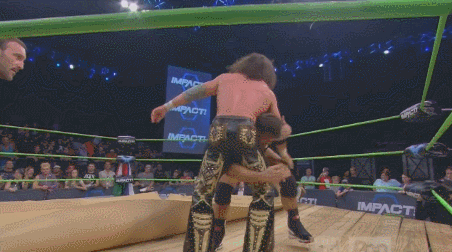 OK let's look at the card and see what's HYPE.
Trevor Lee vs. Dezmond Xavier vs. Garza Jr. vs. Matt Sydal vs. Petey Williams vs. Sonjay Dutt (Impact X Division Championship)

Well we just saw this exact match so NO HYPE. I like the wrestlers involved in this match but a six-way by design can only be a spaghetti junction of moves and nothing else.
Ohio Versus Everything vs. The Latin American Xchange (5150 Street Fight for the Impact World Tag Team Championship)

I enjoy both teams and they can both deliver a spot-fest when needed so HYPE for this.
Sienna vs. Allie vs. Gail Kim (Impact Knockouts Championship)

MODERATE HYPE as crowds love Kim so there'll be noise and a hopeful changing of the guard.
Moose and Stephan Bonnar vs. King Mo and Lashley (Six Sides of Steel Tag Match)

CURIOUS HYPE for this as it could either be really good or really bad. Would have been fine as Lashley vs. Moose but in fairness they've done that a lot already. More HYPE for potential Dan Lambert promos.
Team Impact (Eddie Edwards, Ethan Carter III and James Storm) vs. Team AAA (El Hijo del Fantasma, Pagano and Texano)

NO HYPE, this must have been explained or covered on previous shows because that video package explained nothing. And screw Impact for making me watch AAA twice in one year.
Abyss vs. Grado (Monster's Ball match, If Grado loses, his work visa will be terminated and he must leave the U.S.)

Hopefully this mix of comedy and hardcore will result in a Broken Hardys style match with wackiness. I'm HYPE FOR WACKY but if done straight then NAE HYPE.
Eli Drake vs. Johnny Impact (Impact Global Championship)

HYPE for Impact winning and hopefully changing his frigging name. Not sure if it's headlining but let's say it is.
Enough from me, what do you guys think? Anyone watching Impact or is just me?
And if you're here just for the Impact hate, have no fear! Here's the list of every wrestler/staffer who has parted ways with Impact wrestling this year:
Matt Hardy (Company top performer and merch seller)

Jeff Hardy (Company top performer and merch seller)

Jeff Jarrett (Founder, only returned in January)

Magnus (Returned in March, unable to reach new deal)

Cody Rhodes (Short term contract)

Jim Cornette (Only returned in August)

Davey Richards (Retired)

Taryn Terrell (Only returned in August)

Angelina Love (Only returned in January)

Matt Morgan (Only returned in March)

Low Ki (Only returned in April)

Karen Jarrett (Not yet official)

Swoggle (May still return)

Da Pope (Announcer)

Aron Rex (Damien Sandow)

Mia Yim (Jade)

Drew Galloway

Reby Hardy

Madison Rayne

Al Snow

Reno Scum

Mike Bennett

Maria Kanellis

Gaby Castrovinci

Crazzy Steve

Eddie Kingston

Tyrus

Shane Helms

Aiden O'Shea

Marti Belle

Brandi Rhodes

Rockstar Spud

MJ Jenkins

Marshe Rockett

Robbie E

Jessie Godderz

Pat Kenny

Scott Steiner

Referee Earl Hebner

Referee Brian Hebner

Referee Robert King

Referee Brian Stiffler

James Storm is slated to leave in January apparently.