A new idea for a monthly column as so much happens in a month that many bad moments come and go. And we can't let that happen can we?
Botch of The Month
I'm going to go with Dr. Britt Baker forgetting who her tag partner was at AEW Fight For The Fallen 07/13/19.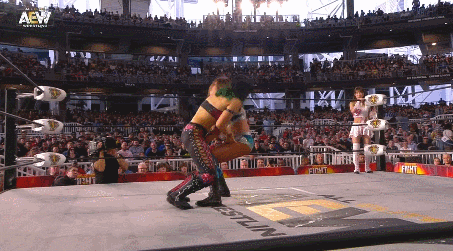 AEW would later claim Britt was concussed because well, what else were they going to say? "There was nothing wrong with her, it's not her fault Shoko and Riho both dressed in white." On the bright side, at least this took attention away from the closed caption machine switching on (until it was revealed she tried tagging him into the match too.)
Dishonourable Mention…
Well we can't ignore Shane McMahon's STUN-nahhh on Smackdown 07/16/19.
They repeated the spot so it could be edited for replays but this didn't stop Owens from immortalising it.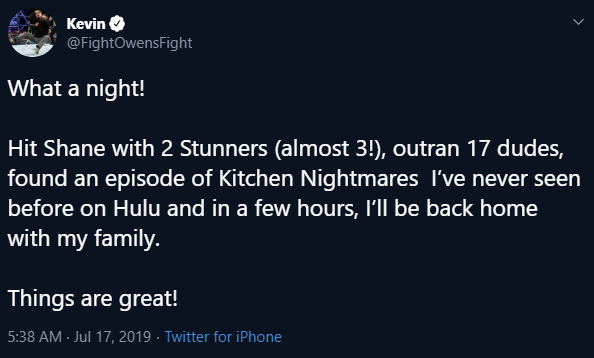 Worst Match Of The Month
There was nothing approaching June's Goldberg vs. Undertaker (aka "what would Frank Bruno vs. Henry Cooper look like in 2019?") so the #1 Contendership Elimination Fatal Four Way for The Raw Women's Title on 07/15/19 wins by default I guess.
There was nothing wrong in the match itself but it didn't matter how good it was, the booking did all the fucking up for them. On a show where the majority of the matches didn't go past five minutes, these poor friggers were given nearly twenty minutes despite having no heat between them to light a candle. So a bored crowd started making their own fun by chanting irrelevant things in between browsing Instagram, with increasingly annoyed "awwwws" for every kick-out. Eventually Natalya won but Alexa Bliss wasn't impressed and took to twitter to voice her displeasure to the fans who paid their money: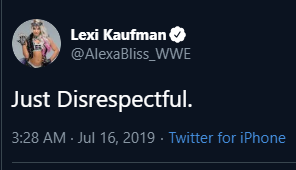 Which is bizarre considering she was getting booed and she's technically a heel. I think. Isn't she supposed to be using Nikki Cross to win a title she hasn't won yet and…ah fuck it let's move on.
Dishonourable Mention…
Laredo Kid is treated like a star wherever he goes but you wouldn't know it watching his match with Rohit Raju on Impact 07/05/19 and seeing the top rope fall off but the referee stopped the match to fix it so they could carry on because Impact is pre-taped with both men having to carry on and do their best, knowing that at the very least they won't air it on YouTube.
Also: there was a time when my DMs would be filled with people spotting even the smallest TNA/Impact mistake. The rope fell off during Impact and I got one fucking notification about it as Impact continues to no-sell death.
Bad Finish of The Month
GCW Tribute To Homicide 07/14/19's main event ended after about a minute when either Nick Gage cut open or Lowlife Louie Ramos nicked himself way too deep and had to exit the ring with his shirt wrapped around his head and the athletic commission ended it for real-real.
Here's the exact moment Gage realises Louie's head has turned into Gangrel's cup. And if you want to see the aftermath then click here but you've been warned: it'll make you go "you know what, maybe they had a point."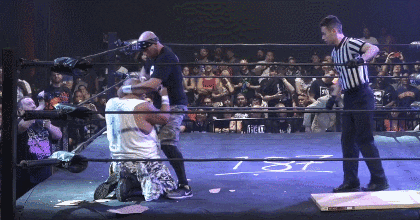 Dishonourable Mention…
Felino took on Blue Panther at CMLL's 07/16/19 Arena México Show and the referee decided to end the match before Blue Panther submitted.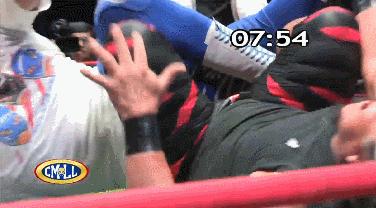 I mean, he was probably just a second before tapping but this won't change anything because CMLL insists on giving referee jobs to the monsters El Santo used to do films with.
Drama Of The Month
Defiant Wrestling only admitted defeat in August so it has to be Jim Cornette vs. Sami Callihan, stemming from MLW Fusion #62.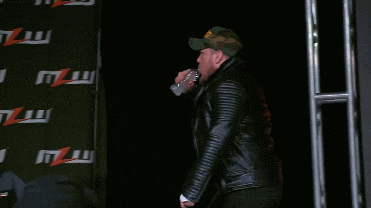 Cornette explains the drama himself but you know what he's like, if you're clean-shaven by the start of the story you'll have a beard by the time he gets to the end so to summarise: Cornette agreed to 'work the marks' by having Sami spit water on him during his entrance to capitalise on Sami's edgelord reputation and Cornette reacted in a working way as agreed…only for Sami to get fired by MLW by brawling around the arena and damaging parts of the building.



Two $15,000 bleachers were severely damaged as well as other property owned by the building. That makes it very, very difficult to return to the venue which is disappointing as I enjoyed working with Sami. He was an agent and worked hard. Fans would've enjoyed the next chapter.




— Court Bauer (@courtbauer) June 18, 2019
So them Sami would attempt to retcon the worked spit into a SHOOT SPIT by saying he did it out of revenge for Cornette's opinions on Sonny Kiss.



I spit in @TheJimCornette's face tonight @MLW, and he did NOTHING.




Then went out and had a "Garbage" wrestling match of the year with @ManceWarner.




You should probably watch it when it airs on @beINSPORTS. #FuckJimCornette #IStandWithSonny pic.twitter.com/Sl0cWC0c42




— The DRAW (@TheSamiCallihan) June 2, 2019
Whether or not Sami meant this or was simply trying to convert a loss into a win is up to you to decide but Sami would claim Jim was the reason for his firing. Cornette has denied this and said he even complimented Sami backstage after the match…only to be met with a muted response due to Sami getting fired moments before.
Anyway the whole thing is worth keeping an eye on, especially seeing as Sami suffered the wrath of security at an AAW show when they took issue with him destroying their chairs.
Dishonourable Mention…
David Starr vs. Trey Miguel turned into a YouTube comment thread really quick, with Miguel taking issue with Starr selling Black Lives Matter gear (EDIT: no, I'm wrong. he had it on his ring gear.) and vented his frustrations in an Instagram video (which no-one saved) where he deemed Starr not a real Jew because he wasn't from Israel and vowed to post a certain video.



May not be ALL of it, but before deleting, Trey Miguel went in on David Starr for being a BLM supporter (while invoking "all lives matter"), crying when visiting a former Nazi concentration camp, and falling victim to an ex posting revenge porn…then HE threatened to post it. pic.twitter.com/iUZrcj69De




— David Bixenspan (@davidbix) July 8, 2019
That's the first instalment out of the way, let me know what other categories you'd like to see from this. Between months, you can find Botches Of The Week at Wrestletalk and I'll see you this Sunday with the newest Botchamania…which won't star as much Triplemania as you'd think but there's still Hard Ass Mexican Tables to look forward to.