August was long and terrible so let's reminisce. Click here for the July 2019 edition.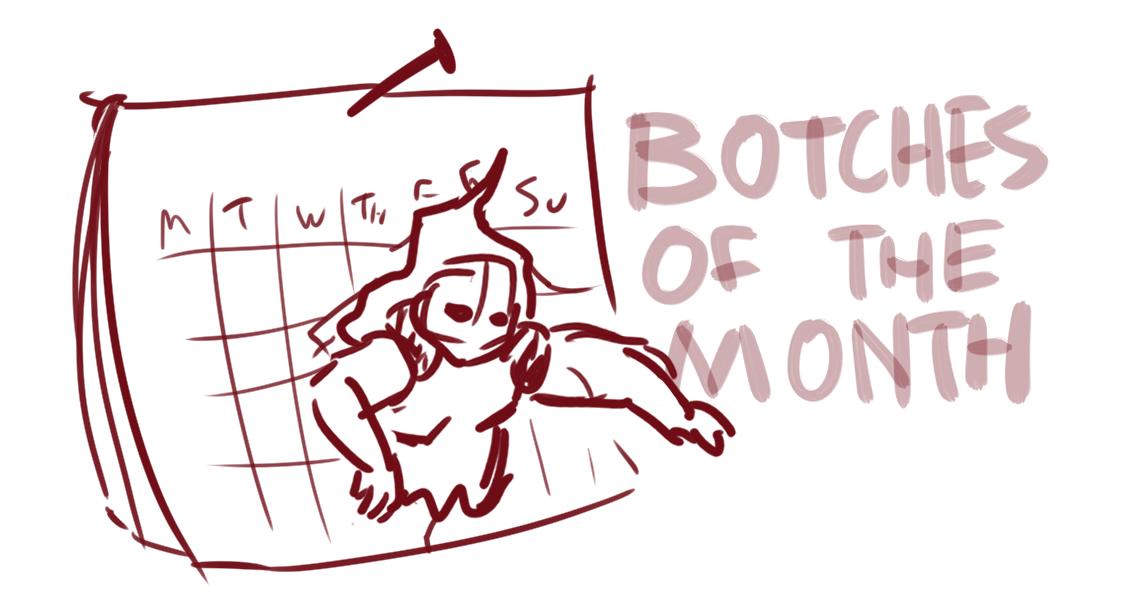 Logo courtesy of yngsovereign who insists it's un-finished so you'll have to tune in next month to see what the proper version looks like.
Botch of The Month
I'm picking the drunk-to-the-point-of-needing-his-pulse-checked ROH Fan at Summer Supercard for managing to distract the wrestlers with his inactivity.



big thanks to reddit user allirow for filming the drunk fan incident from ROH Summer Supercard last night and sending it this way pic.twitter.com/s54qZzKmIp




— MaffewBotchamaniaGuy (@Maffewgregg) August 10, 2019
And also because good guy allirow filmed it himself and sent it my way to save my arse after a nearly botch-free Summerslam.
Dishonourable Mention…
Based purely on the numbers it did on Twitter, I'm going with Bayley's spot-call on Smackdown 08/27/19.



Bayley with the most confident spot-call of the year pic.twitter.com/oi82YMHYAD




— MaffewBotchamaniaGuy (@Maffewgregg) August 28, 2019
In fairness to her, it looked like they were going to use Evans' glove for a spot but the ref kicked them out the ring so Bayley had to call it in the ring like the good old days of Buddy Rogers.
To show I don't hate seeing women in distress here's a second Dishonourable Mention featuring Kofi Kingston hitting an innocent fan with a pancake.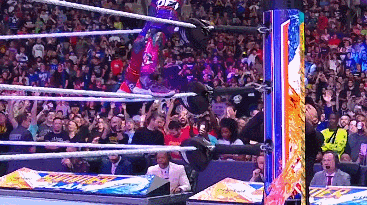 Worst Match Of The Month
Remember when AEW did Double Or Nothing and the consensus was "everything was good apart from the Casino Battle Royal" so they decided what All Out really needed was another Casino Battle Royal? A match where they COULDN'T improve on the negatives because in order to capture all the spots, entrances and eliminations they needed to sign Dr. Octopus to run the live-edit. Having groups of wrestlers enter a battle royal at the same time meant the poor commentators had to talk like smack-heads explaining why they need change for the bus to call all the action and then in the eye of the tornado we got this exchange:



Just a couple of normal peers who get along well having a regular, good match. pic.twitter.com/1A0Jds57hz




— Ooo, A Little Bit of the Barry (@TheBarrylad) September 2, 2019
I can't say "Bea Priestley and Sadie Gibbs have heat" but the public issues between Gibbs and Priestley's partner Will Ospreay have been well-documented and SC Sirens reported Sadie swung at Bea backstage after the match so I don't mind YOU thinking it.
Dishonourable Mention…
Ehhh nothing else really sticks out so let's pick on Ricochet vs. Elias from 08/12/19 Raw.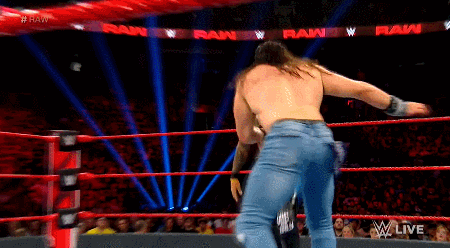 Bad Finish Of The Month
After last month, I might as well re-name this the "CMLL section." Hijo del Signo took on Guerrero Maya at CMLL's 08/11/19 Arena Mexico show in a Lightning (one-fall) match. Un-masking a Luchadore during a match is grounds for an instant DQ so is used to get around protecting guys from taking pins/submissions. It's definitely not supposed to happen two minutes into a nothing-arse match but at least CMLL were nice enough to upload it onto their YouTube.
Dishonourable Mention…
On the GCW/BLP show the day before All Out, G-Raver decided he wanted to out-bump both The Young Bucks & The Lucha Bros. during his ladder match.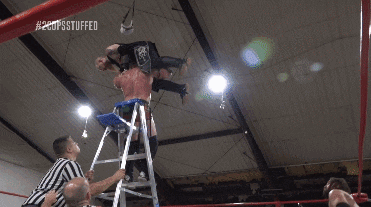 Sadly he got his wish and had to leave after a light-tube/ladder bump went horribly awry and ended up cutting deep into his armpit which is the exact same injury that briefly killed Nick Gage (GIF hidden behind this link as it's fairly grisly.) This is G-Raver's second GCW match this year that ended in a hospital visit and the man is looking for help with his medical bills so click here to help the crazy fuck recover so he can go back to doing this.
Drama Of The Month
The on-going saga of AAA running Madison Square Garden, as chronicled by Luchablog to try and make and sense of something they announced in JULY.
August 9th No matches announced, no longer possible to see how many tickets had been sold on the website, no-longer using the "MSG" hash-tag & the commentators were told to not mention the shows during Triplemania, their biggest show of the year.
August 16th AAA announces it's moving from MSG to the nearby Hulu Theatre, explain it's to make the "experience" better for fans, two matches announced.
Today "Also Starring: Cain Velasquez!" so AAA technically have 2.5 matches announced for a U.S. show that's being recorded for a FITE PPV (that you can't order if you're in Mexico), that's happening in two weeks time.
I'm so glad I've been following more Lucha Libre this year, the backstage drama is 200% more interesting than most U.S. in-ring storylines.
Dishonourable Mention…
As a dog-lover I've got to mention Cody bringing out Pharaoh The Dog during his entrance and spooking the poor fucker when the loud pyro went off.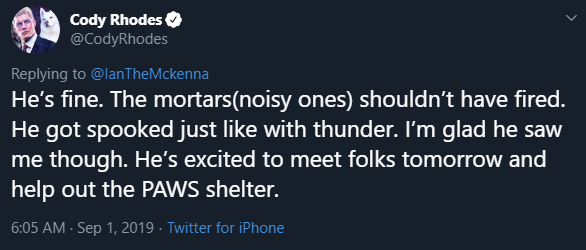 Tony Khan commented "Pharoah's fine and I'm glad Pharoah's fine and no I would not ever do that again and Brandi was not thrilled with Cody. Shooting the pyro off with Pharoah out there was not something I would have done and was not happy about it and no, I don't think Pharoah was happy about it either." You have to work really hard to distract from Brandi, MJF and DDP dressed up in Star Trek outfits but here we are.
Oh and because they haven't been mentioned in a while there's also Killer Kross vs. Impact.  Kross hasn't been seen since Slammiversary, allegedly because he refused to blade during his match with Eddie Edwards due to Kross' concern over the lack of blood testing and on-site doctor (so fake blood was used instead.)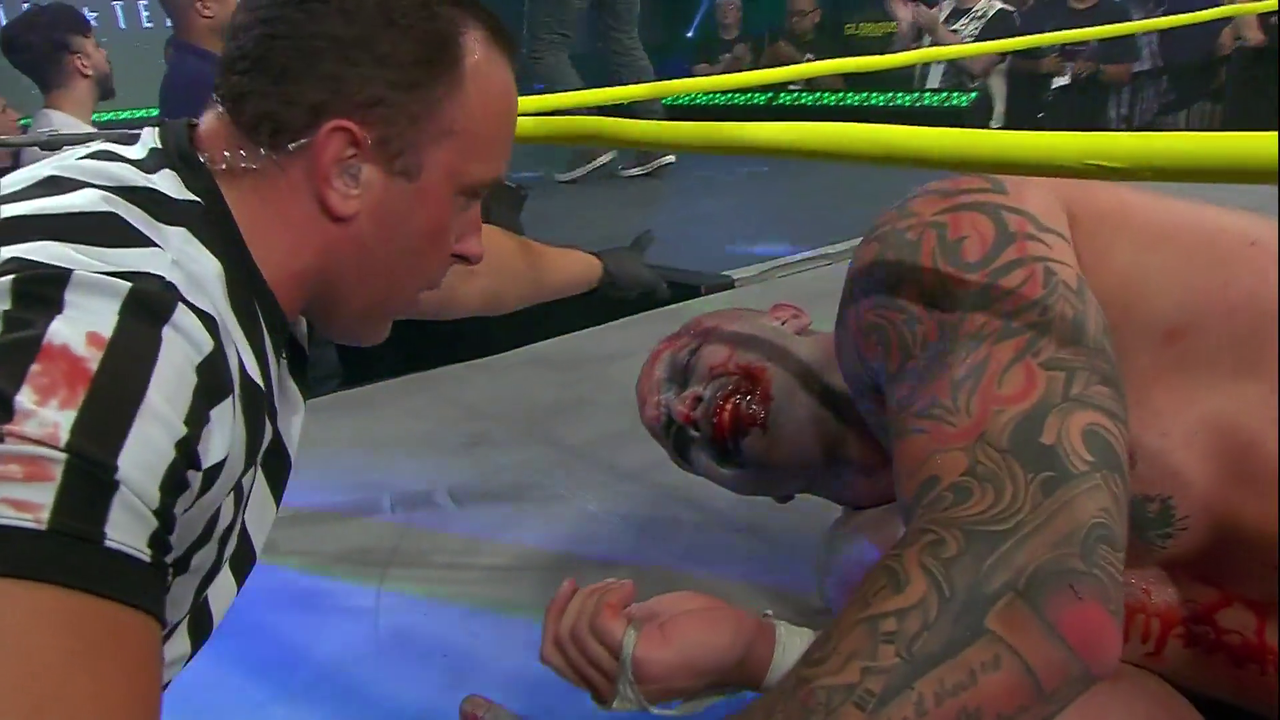 Oh and he may not be at the AAA Invades NY show despite announcing it months ago because Impact isn't happy with him right now (despite Kross asking for his release in May) so even the bad moments in wrestling have to crossover nowadays.
That's your lot, let me know in the comments if there's any other categories from this long-running monthly column and until Botchamania 394 you can find weekly Botches Of The Week at Wrestletalk (because they pay me) and I'll leave you to debate whether or not Joe Coffey meant to do this at NXT Cardiff.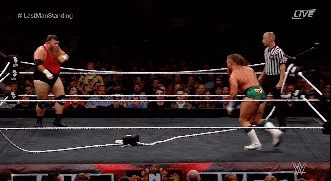 edit: haha well no-one's going to care about this recap if I don't missing the breaking news of "Jericho lost the AEW Title" ahahahahahahahahahaahaha



Tallahassee Police confirm that this is real. Jericho's belt was stolen.




— David Bixenspan (@davidbix) September 3, 2019