Fuck
Like This Video
30
864
There's two people on here who Rant/React to Raw already so there's no point in me talking about the show in-depth. I wanted to point out this quick bit though.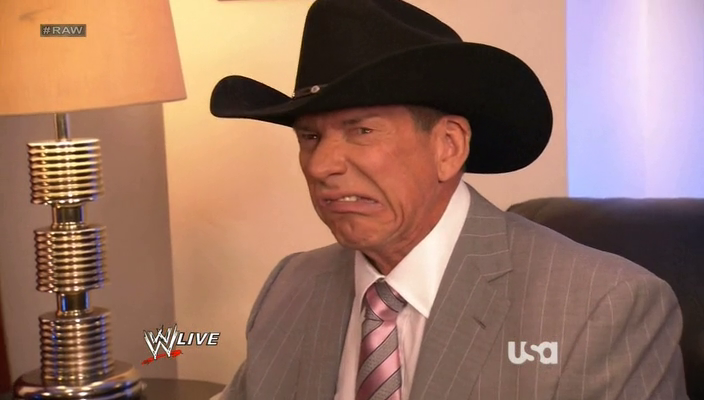 Vince McMahon impersonated Jim Ross by putting on a cowboy hat and horrible distorted his face. The crowd reacted with a few awkward laughs followed by silence and then a "J.R." chant.
These were the most awkward  seconds on Raw in ages. I found it darkly humorous that WWE has criticized Ed Ferrera's parody of Jim Ross on their DVDs and Legends of Wrestling shows for years and here we have this segment…with a babyface Vince!
I wasn't so much offended by Vince mocking Ross' condition, more amazed that the guy still has such a hard-on for mocking a commentator that is still beloved by most WWE fans. Vince is really turning into that one old relative that you have to keep foreigners away from because he still thinks the Crimean War is on.
He would almost top this moment later on in the night by suggesting that Big Johnny was an idiot for re-signing The Big Show "who hasn't been good since 1999." Big Show then missed the punch on Vince at the very end of the show, which sort of validated Vince.
Shine on you crazy rich old man.
BONUS!
I found out recently that the Oklahoma character actually started in WWF. Make of that what you will.
(more)
16
568
0
Ryback or John Cena?  Who will face CM Punk for the WWE Title at Hell in a Cell?  Sheamus and The Big Show try to get under each other's skin and Daniel Bryan and Kane's love/hate relationship finally takes a
15
340
0
Hello and thanks for showing up to reflect on the latest episode of Monday Night Raw.
15
1580
0
Watching all those old intros made me smile. 'Thorn in Your Eye' is best, as it gets you pumped up to watch wrestling. Even if you don't know what they're saying.
http://www.youtube.com/watch?v=K7SNCOrgrO8