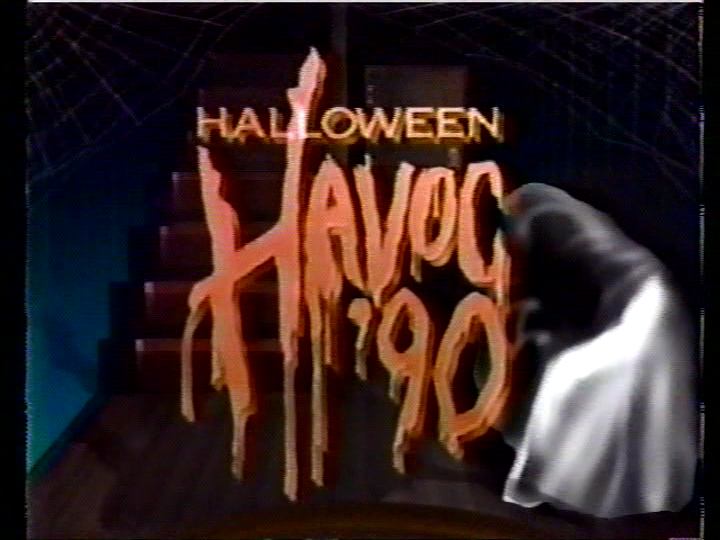 The Black Scorpion, two Stings and Kevin Nash dressed up as a Thundercat.

Good Stuff!
Bad Stuff!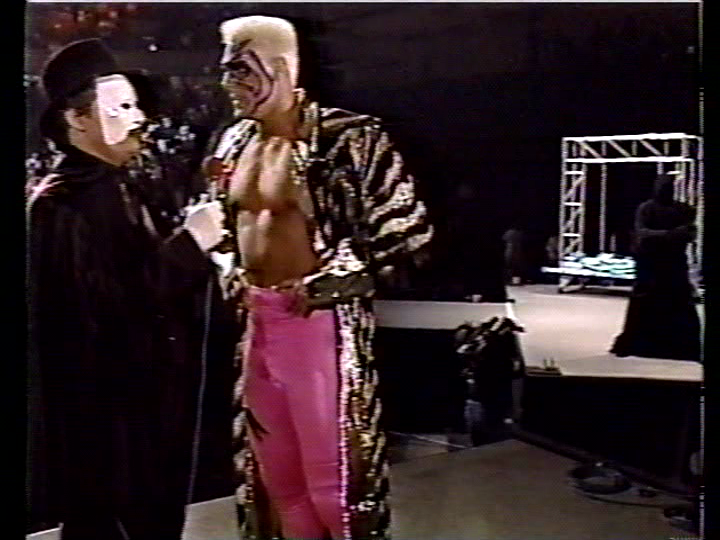 Wrestlecrap!
The Master Blasters who the fans loved…chanting "L.O.D."  at. Pre-fame and pre-"Who?" Kevin Nash and Al Green wearing soot and Mohawks generate laughter rather than electricity or excitement or other positive things. A waste of The Southern Boys but they can rest easy knowing that decades from now people will still be laughing at Kevin Nash's appearance.
The fucking Black Scorpion. What more needs to be typed? This is the segment where Scorpion fiendishly kidnaps a woman and transports to another part of the arena using the power of RUNNING BEHIND THE CURTAIN to put a woman inside a cage. The Black Scorpion could have been a great character if he had done

anything else

other than amateur magic tricks to scare Sting. If he had just stuck to "I'm an old friend of yours SSSST-IIING" promos he would have been a cool character. Not unveiling as Ric Flair would have helped too, but during skits like these everybody involved is dragged down by the inanity as everyone has to sell The Black Scorpion as if he's fucking Saruman. "Oh my God, that masked man just took Sting's nose! How will he defend the title now?"
The end of Sting vs. Sid Vicious. They brawl near the fans when suddenly the Four Horsemen distract the referee and replace Sting with a Barry Windham. Back in the ring, Windham gets pinned by Sid who is declared the winner and new Champion…only for Sting (with a piece of rope around him to show he was either tied up or trying to hang himself) to return to the ring and reclaim the title IN SECONDS. The whole series of events occurs so damn quickly due to the fact they were running out of air-time which just makes a shite idea even shiter. The match and show exists as a filler show until Sting takes on The Black Scorpion at Starrcade, so Sid is Just Another Guy for this match. Even worse, Sid is an unstoppable monster, right? So why is he pulling shit like this? Sting should be the one having to cheat to beat him, not the other way around, because a monster heel who has to nick ideas from Black Scorpion (Hey, his initials are B.S. for a reason) isn't that monster-y. Something WWE forgets everytime Cena beats a 'monster' heel today in 2012.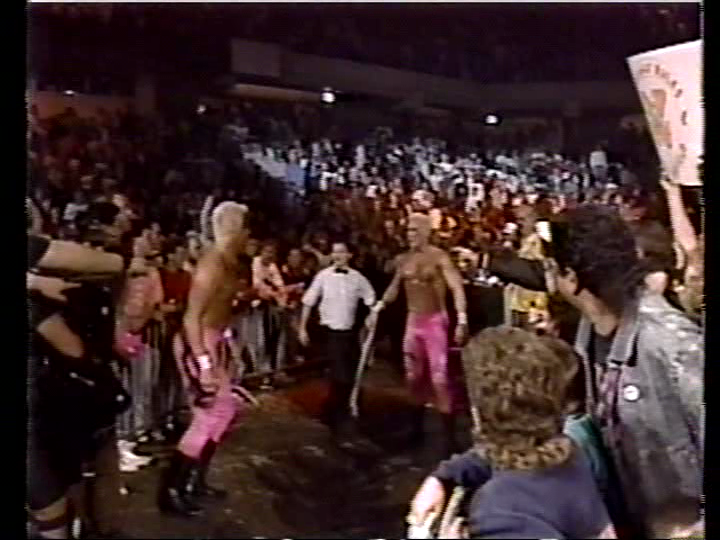 Overall!
Four watchable matches is pretty good  by Halloween Havoc standards.