WCW Spring Stampede 1998
Like This Video
9
40
Added by maffew
September 4, 2012

A B-Show PPV back when they could admit "Yeah it's a B-Show but some belts will probably change hands" and the viewing public would reply "Sold!"

Good Stuff!
Raven's Dog and Pony Show formula was perfect for this period as the crowd reacts for every single false-finish. Page was at the height of his popularity and skills too.
Chavo vs. Ultimo Dragon is another chapter of the Eddie/Chavo feud-but-not-really, which lasted aaaaages and was a hoot to watch. Chavo looks credible AND silly at the same time.
Booker T vs. STEVIE RICHARDS is set before their famous Best of Seven series and before Fit Finlay got involved. It's a lot better than their Great American Bash '98 match too.
Macho Man Randy Savage takes on Sting in a so-so match that exists as a backdrop for further nWo 'drama', but Savage is in it and no way am I putting him anywhere else other than Good Stuff.
Goldberg is dragged kicking and screaming through a good match with Hairy Saturn.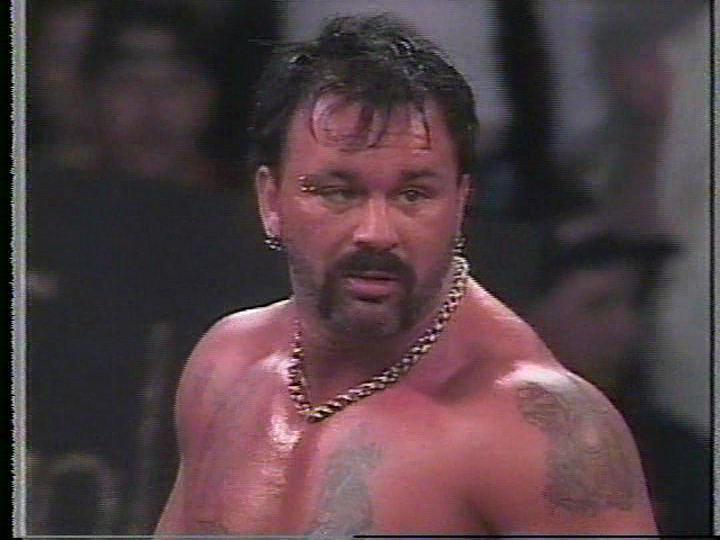 Bad Stuff!
Hennig vs. Bulldog is barely there due to uninteresting outside crap with Rick Rude and The Anvil, plus as Scott Keith put it "both wrestlers had one good vertabrae between them."
The Steiner/Steiner feud lasted the entire frigging year and was teased endlessly without really delivering until Halloween Havoc. Luger and Bagwell being involved…doesn't help.
Piper and The Giant vs. Hogan and Nash is as fun as it sounds. It's a Bat On A Pole match too, which means somebody has to climb the pole to get it, so hilariously the man with multiple hip operations (Piper) does it as he's the most agile man of the match. The rest of the match is filled with tedious nWo 'drama'.
La Parka v. Psychosis is fine action-wise but the utter lack of reaction from the crowd make it almost uncomfortable to watch.
Chris Jericho in 1998? Should be an obvious "Yes!" but he's wrestling Prince Iaukea so it's a miss. Long story short, Jericho retains his Cruiserweight Title,  takes Iaukea's tropical shirt and wears it like a towel.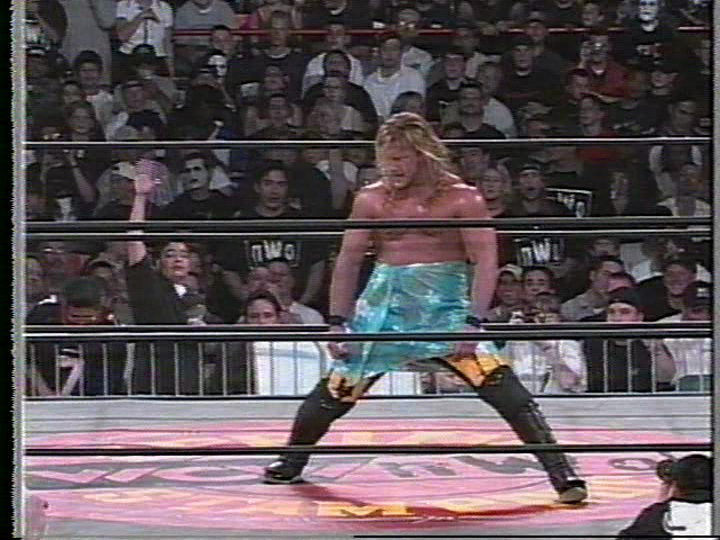 Wrestlecrap!
Sting vs. Savage No DQ follows the Raven's Rules match. They brawl in the exact same areas as Raven/DDP did to a diminished reaction.
Sting hits Savage with a bale of hay, causing Tony Schiavone talk about how the hay is "abrasive" and "could potentially be swallowed."
Savage would win the World Title in the main event and lose the belt the next night to Hogan. The exact same thing would happen the following year after Savage won the belt at Bash At The Beach 1999.
It's WCW 1998 and the crowd will react to everything and everybody.  Prince Iaukea comes out and you could hear a fly fart.
Neidhart topless and handcuffed would reflect The Anvil's later life.
Overall!
It's a B-Show with a lot of matches merely a backdrop for the next PPV. Want to find out my opinion on the show? STAY TUNED FOR MORE NITRO.
37
40
0
It was good. Sin Cara and Lord Tensai botched, Ziggler died and won, ADR/Sheamus has less heat than Scotland, three unannounced matches (because WWE), Bryan/Punk awesome as usual and CENA WINS!
59
50
0
Sprained Ankles, Paul Heyman and Disneyland. Good! The pre-show Battle Royal was quick and fun. The match was full of what I guess are WWE's official Disposable Midcard Xperts (DMX) so I spent most of the time either going "Oh,
20
71
0
Watched the only WWF PPV I haven't watched in full before: KOTR 1996. Here's the notes I typed on Twitter expanded in a nice presentable manner. Owen Hart's commentating and Dox Hendrix is presenting, so let's start the Various Notes!