Wrestlemania XXIX
Like This Video
28
1159
You know what's what, let's look at the tweets:
Remember when WWE saved America from hurricanes? I do now. (All the opening was missing was Steph coming out and comparing the devastation left behind by the hurricanes to the steroid trials.)

"THAT MOMENT WHEN TIME STOPS" Bloody Youtube needs buffering.

PURPLE AKI represented yet again. I love it. (I still don't understand why that sign is a 'thing' at every Wrestlemania but God is it funny.)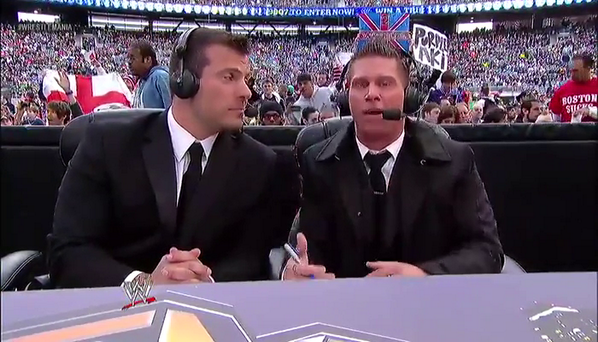 I hope Shield don't come through the crowd for this match. They'll be shagged. (Seconds later they indeed came down via the crowd. They were un-shagged.)

IF CENA WINS WE COMPLAIN ONLINE sign-holder: I love you.

Li'l Naitch has a better dye job than Rawlins.

Didn't think I'd ever see Jon Moxley at Wrestlemania. So happy for the guy. (Amazing that I've watched his career grow step-by-step.)

Rollins hair + Ambrose accent + Reigns body = Sabretooth.

Big Show as BILLY NO MATES

SHOW TURNS ON HIS PARTNERS because they were being dicks. Nice logical turn…oh wait he's still heel. (Why are WWE faces so unlikable? Is it an American thing? Is it cool to be an unlikable dick? DMC suggests this to be true. Show turning-but-not-turning is the only thing I've predicted correctly in months, mostly because it followed logic.)
They should show shirtless Ambrose and Rawlins in the Sky HD adverts. (Maffew loses male Twitter followers. Maffew gains female Twitter followers.)
CENA VS ROCK II IS ON THIS PPV I JUST ORDERED? OH MAN, CAN I ORDER IT TWICE? (People used to mock WCW relentlessly for this and there they are in 2013 still doing it.)

Mark Henry vs. DeviantArt Finlay

Legit want Mark Henry to win…COME ON YOU BIG GRANDMOTHERLOVER

People chanting "Sexual Chocolate" at Strong Mark. Screw you people.  (I wonder if fans know WHY they're doing it or if it's a Pavlov's dog thing at this point.)
I hope Henry sleeps with Ryback's mum and has more hands.  (Oh man what an amazing feud that would be. "He has his father's fingers…")

 Skinhead vs. Enormous Scary Black Guy. it's like Oz all over again.

BLACK SNORLAX WINS, YES YES YES YES YES

"FINISH IT!" The match is over, silly. (He only has the power if he says the catchphrase. "Shazam")

Why does Ryback's music play when he lost? Everybody's hating on Strong Mark today. 

Rey vs. Sheamus vs. JBL was better than Ryback vs. Mark Henry.

Big E and his porno-tights are here. (Only friction keeps his gear on.)

Kane is at Sheamus-level tan colour.

Ziggler botches. It's OK fella, there's not many watching.

Team Hell No to continue teaming until the next batch of hurricanes takes out America. (Which wouldn't be an issue if they had anything resembling a feud. Match was good.)
LOOK, CESARO IS ON THE PPV (as a clip of Cesaro wrestling Miz was shown. Sigh.)

I hope Fandango doesn't wrestle and holds off until Backlash.

Those aren't fireworks, North Korea had money on Ryback to win.

Everytime Fandango struts, his music should play.

That ending was rougher than a badger's arse.

Never seen Fandango wrestle, so I had zero expectations. He still disappointed. (Bit harsh there. The character is entertaining enough for him to get away without being Steamboat.)
MIZ WITH THE FIGURE THREE AND A HALF. (Pre-Show title wins mean I can't even call him Miz-Card. Damn.)

Triumph The Insult Comic Dog: "Poop Diddy are you in show business now? I didn't realise wearing a suit was a skill!"

Del Rio in the skyscraper: "Everything the light touches is my kingdom. God I'm rich."

The MV recap for Swagger/Del Rio is better than anything that's actually happened in the feud. (Big props to the MV department for all the packages. Did a great job of explaining who was what to the people who avoid Raw.)
Racist Grandad is my new favourite wrestling gimmick. We can all relate in some way. (If my Grandad was still alive, he'd love Zeb.)
Did Swagger get a DUI on the way to the ring? (Swagger gets his entrance cut, thus causing internet-people to suggest Vince is mad with him. Because God knows if your boss is mad at you he puts you in a position to make a ton of money in one night. BRB weed.)
"This match is for the World Heavyweight Title…no, really" (Lilian sounded surprised at everything she was saying.)

"Jack Swagger is a real American but a really bad Mexican"

I hope Del Rio wins with a Piñata shot.  (It's funny, Zeb could put together a MV package of Del Rio engaging in criminal activity just from the Big Show feud alone.  "You stole his car, burst into his hotel room and ruined his suit? YOU HAVE TO BE IN FCW TO GET AWAY WITH THAT.")
WHEN IT COMES CRUSHING DOWN AND IT HURTS INSIII-IIIDE/I SMOKED SOME WEED AND I TRIED TO DRIII-IIIVE.
Del Rio has been on a great in-ring run, shame he's had bugger-all to work with interview and feud wise.
BarberShopWindow vs. WWE had a better build than this. (NO COMMENT)
Rodriguez on crutches. At least he can enter the 2014 Special Olympics.
Noise in the room as match faded to black with no Ziggler: "Awwwwwwwww" (Match wasn't bad but the only thing of interest was the manager.  And Ziggler. Neither wrestled.)

Undertaker: "I WILL TAKE YOUR SOUL"

CM Punk: "lol i'm atheist"

Undi sadly didn't use his powers to turn the Statue of Liberty mobile Ghostbusters 2-style and punt Punk so hard he'd land in TNA.

UNDERTAKER OFFICIALLY BETTER THAN CHRISTMAS. (What a match. Punk looked and acted like a completely different person to how he was in the 2009 feud.)

 Cena/Rock II. The one where Cena finds out Rock's his real dad.

The Kimura lock pops out your shoulder. The only reason HBK's arm broke was because BROCK WAS DOING IT.

Triple H: "I see your dick tattoo and raise you one CONDENSED SMOKE CHEST"

Brock lands on his neck to avoid hurting his tattoo.

Brock didn't mean to break the table, he was just setting up for the next move. He's just that Brock. ("I'm just going to put Tripper on here so I can-oh, never mind.")
 Triple H finally knows how Booker T felt. (I was hoping Brock would win, therefore ruining this tweet.)

JBL: "How guttsy is Triple H?" as HHH fearlessly hits another man with a chair.

 My housemate: "It's No Holds Barred, why doesn't Triple H just shoot Brock?" (Brock would eat the gun like that one nightmare Bart had about Nelson.)

Brock Lesnar's aura is second only to Undi. His matches have all been events as he's such a convincing psycho monster. (It helps he's barely on TV, it barely matters he's lost two of his three matches.)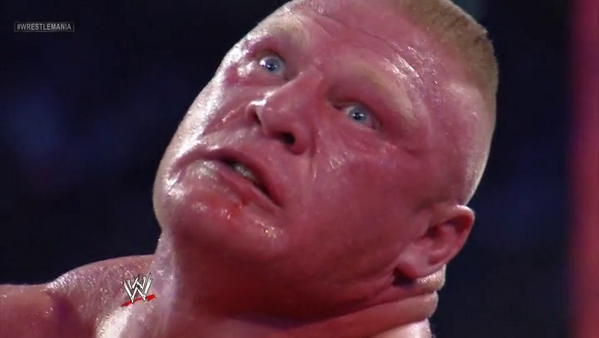 Bruno Sammartino "This company wouldn't be here without me." Trump: "Likewise." (Not sure what the hell I'm talking about here.)
Explaining to my housemates why the main good guy Cena is being booed by everybody: "because he's shit."
Clay and Tensai couldn't decide who was going to be the team leader so the match was cancelled, shades of Wrestlemania X.
They should have a counter in the corner for all the people that are leaving during this match. ("We've broken another record…more people left during this main event than Triple H/Orton! Give yourselves…a big hand. Not you Mark Jr.")
First time they've done triple main events back-to-back on a PPV. The result? "Boring" chants during Rock/Cena II. (I had no idea how important Diva matches were until now. I take it all back.)
I hope Cena gets ill so the Make-A-Wish Foundation can arrange him to meet himself so he can realise why he gets booed so much.
Paul Bearer heard Cena's spot-calling.
"Alright, we've hit our finishers so now the crowd will believe the match will end when we hit them again" Wrestlemania Main Events. (Kurt Angle is entirely to blame for this. Impressive how influential he's been.)
It's not over until Cena says it's over. Loudly. On camera.
Cole: "After Cena lost to Rock, he wasn't the same for a year." HE WAS EXACTLY THE SAME, THAT'S THE PROBLEM.
The exchanging of two moves over again was hilarious. Hanging onto something that's not working, perfect analogy for Cena's character. (It really didn't work when I watched it the first time with friends but re-watching it made me appreciate it a bit more. if you laugh quieter you realise the crowd *does* get into it.)
Bonus points: No tedious comedy skits, no blatant adverts for things unrelated to the company. Felt a lot more like Wrestlemania than usual.
Margaret Thatcher's dead. BEST WRESTLEMANIA EVER. (After 'Mania went off the air, Cena got on the mic and told the crowd "We did it, we finally got her.")

"HEY MAFFEW TELL US ALL HOW BAD WRESTLEMANIA WAS." Love wrestling, hate wrestling fans. 

(I don't care if I lose fans/respect/bitcoins with that statement, most of the people that talk to me online don't know how to enjoy wrestling.)

Overall: YAY WRESTLING
(more)
20
2732
3
It all returns to nothing, it all comes tumbling down, tumbling down, tumbling down
It all returns to nothing, I just keep letting me down, letting me down, letting me down…
The last month of Impact Wrestling on Spike. A shame, but
14
2578
3
As fun as watching 2009 ECW is, it reminded me I'm behind on the modern-day version. So let's recap November 2014!
37
684
0
There's no way this needs a 'real' write-up or analysis, but if you do want one, you can get one here.
http://youtu.be/4lDkkF-gQkk
I love Tenay's completely unexciting start to every TNA show. He couldn't emote a fart after a plate of baked