I tweeted during the Paralympics Opening Ceremonies for my own amusement (and my Dad's, who texted me saying "GERRIN") and some people  asked if the best ones could be resposted on this fine website/glorified blog. Bad puns after the jump…


Alright, watching paralympics opening ceremony. I love flag-waving, smiling people. They all remind me of Don King.


David Cameron is at the Paralympics? Maybe he can explain to half of them where their ESA has gone.


Announcer: "Azerbaijan!" Crowd: "Bless you!"


Judging by their dress sense, Belarus' motto is "Hi-De-Hi!"


The Belgiums have brought a dog. Paralympics ceremony> Olympics ceremony


Bermuda's flag isn't a triangle? #Gutted


Dammit, where's the Street Fighter 2 announcer? He missed "Brazil" again.


It's great watching hundreds of nationalities lose their identity by having them all drinking Cola and carrying Smartphones.


Cambodia! Is it a holiday for them to be here?#ForcedDeadKennedysReference


If my Grandad was alive he'd be saying something like "Cameroon are wearing my curtains! Give 'em back!"


They need to combine the Paralympics with the Macy's Day Parade. "Representing Chile, it's Spongebob Squarepants"


When I was a kid, different nationalities getting together to compete was called 'Wacky Races'


Please please please have Wheel Flair from TNA 2010 represent USA. #Paralympics


One nation brought wellies. DAMMIT, THEY KNOW WE HAVE SHIT WEATHER. WHO TOLD THEM?? #ShootTheBastard


Seeing loads of empty chairs next to athletes reminds me of IWA-MS. (Note: It's a weird visual watching all the athletes walk past thousands of empty chairs. Not sure why they'd go with that look.)


"We've got some nice weather outside now" Put on the glasses from They Live and she actually says "IT'S GOING TO FUCKING RAIN"


"Egypt loves London." They didn't vote for their last leader either.


I hope the lads from the BBC3 intros represent England. (Note: God I hope at least one Brit visits this website or these references or going to suck)


German team are here. The Queen cheers as she loves meeting relatives.


WE'RE GHANA COME GET YA.


They're talking about having to rush the athletes because they spend so long waving to people. Should have had it on a slope.


God these commentators sound bored. In fact they sound perfectly HUNGARY and probably wish they were elsewhere, eating.


Massive cheers for Iceland due to everybody hoping they've brought frozen pizzas with them.


"Iran, Number One! London?" *spits on floor* Sadly no-one from Iran did this.


Just realised Kamala could represent Uganda now. Felt bad.


I hope Michael Palin is watching these ceremonies and going "Been there, been there, been there…"


SOME PEOPLE SAY YOU KNOW YOU CAN BELIEVE, JAMAICA WE HAVE A PARALYMPIC TEAM.


Kazakhstan enter and several thousands Chavs go "Wait…it's a real country?!"


You'd feel good about yourself and your country knowing you were cut out the Opening Ceremony for a Sainsbury's advert.


NEVER MIND THAT SHIT, HERE COMES MONGOLIA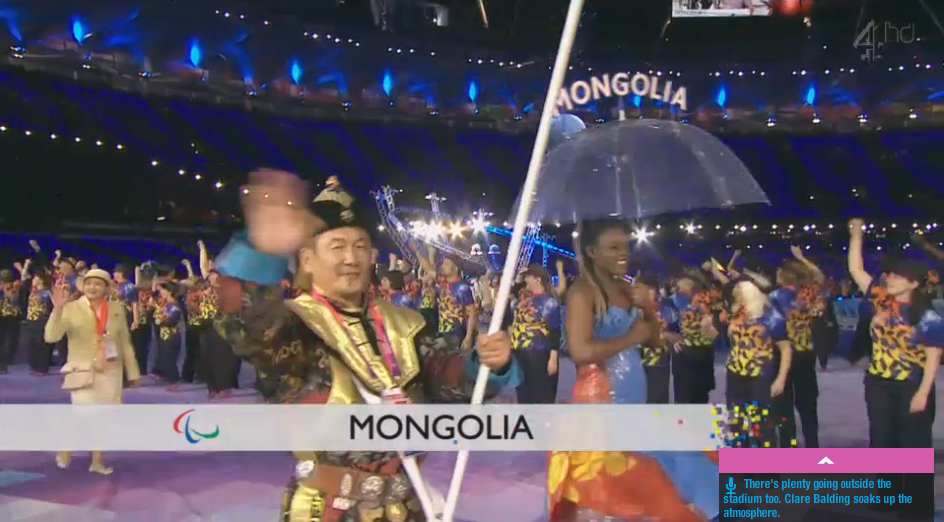 Next year, they won't have flags of their own countries to wave, they'll have big red ones that say EAT MCDONALDS on them. (Note: And little ones that say DRINK COKE)


Madagascar is followed by…Madagascar: Escape 2 Africa.


We're MALI and MALI…woooOOOOoooo…


You can tell McDonalds sponsor this…they've got the same people who take your order doing the commentary. #NoEnthusiasm (Note: The commentators ran out of things to say once they reached "B")


Don Morroco? Oh wait, never mind. My mistake.


Papa? Nepal!


Peter Pan hails from Nether-Netherlands.


New Zealand sadly don't walk like The Bushwackers. #LicksCamera


I hope Mad Dog Vachon qualified. Other competitors could use his foot as a weapon, like during HBK/Diesel.


Papua (Shango) New (Rockers) Guinea


Polando Jordan.


I knew the Puerto Rico flag before they announced it because of Savio Vega and Eddie Kingston.


Russian Federation! Ivan Koloff tried to qualify, but got sent back to Canada. #KayfabeIsDead


Team Samoa are wearing shoes. I'm claiming bullshit.


Singapore are here and that..that..that's gotta be CANE!


The Jamaican athletes sadly didn't later re-appear representing West Africa.


I'M SO OLD I REMEMBER WHEN YODA WASN'T AN ADVERT


I'd pay to see Ultimate Warrior compete in the 100m Sprint, fist-pumping the entire race.


JUSTICE SPAIN


I just watched Cool Runnings, so the heels for the Paralympics are Switzerland as far as I'm concerned. #OrElseWHATJamaican


Taipei! Representing them are Ian Rotten, Axl Rotten and the bloke from Rambo III.


Antonio Cesaro has so many passports he can legally compete for half these nations.


Tonga! Represented by Mr. Kid. First name…The Tonga.


Lockdown: Every match is a cage match. Paralympics: Every match is a flag match.


-Cut to DJ playing stuff. One person seen dancing- -Immediately cut back to Athletes- (Note: Hard to put into words how funny that was)


Songs that could be played now: The theme from Around the World with Willy Fog.


Ukraine all dressed like Lucozade bottles from the nineties.


We're all part of history alright.This is the most people seen smiling in London in decades.