Sprained Ankles, Paul Heyman and Disneyland.


Good!


The pre-show Battle Royal was quick and fun. The match was full of what I guess are WWE's official Disposable Midcard Xperts (DMX) so I spent most of the time either going "Oh, so-and-so exists! That's nice" or "Hey remember when that guy was getting a push?"  Ryder won and the crowd's reaction was like that gif of Sean Connery fist-pumping:




"ALRIGHT, RYDER WON!…oh wait he's wrestling Claudio. Shit, he's dead."


Miz vs. Sin Cara vs. Rey vs. Cody was fun and nice to see WWE rebuilding an IC division. Now all they need to do is stop them losing every Raw and Smackdown to The Millionaire's Club and we'll be dandy.


Bryan & Kane winning the Tag Belts half-accidentally is another chapter in the brilliant Kane and Bryan story. "I AM THE TAG TEAM CHAMPIONS!" indeed.


Cesaro obliterated Ryder and in a nice change (aside from a faint "Claudio" chant) nobody was cheering for Cesaro because Ryder is that beloved. Cesaro pins Ryder with The Neutralizer (BECAUSE HE'S SWISS).


Ziggler vs. Orton was just as good as the last hundred matches they've had.


Alberto Del Rio wrestled like a beast and if you just paid attention to his performance in the ring and ignored the storyline, he appeared legitimate. Shame it doesn't mean anything, but credit where credit is due.


The Steve Kean campaign spreading to a foreign country.


JBL on commentary was a breath of fresh air. He hadn't lost a step and also acted as a pacemaker for Michael Cole.


CM Punk vs. Cena still feels like a big match as they're two guys WWE actually bothers to use Damage Control on.


Bad!


Crowd's reactions to Rey and Cara going at it weren't as enthusiastic as WWE probably wanted. They'd teamed up a few times on TV with no explanation and were wrestling in a match on PPV with no feud attached so go figure. It wasn't quite Warrior and Hogan going at it at the Rumble.


The weird storyline-that-isn't-a-storyline with The Prime Time Players being the No. 1 Contenders for the Tag Belts only to lose it to Bryan and Kane last week doesn't seem to be going anywhere, does it? Although knowing WWE's logic, their clean loss to Bryan and Kane will start a feud.


Also regarding the Tag Team Division, what now for Truth and Kingston? Kingston is likely not going to be anything else other than a midcarder who flashes with pretty moves (and there's nothing wrong with that) but I miss crazy Truth.


All of Orton's feuds: Orton beats them on TV for a few weeks, they get one sneak attack so they make a hype video to make it look like a feud, Orton wins on PPV. Which is great if you're Orton but not too good if you're a new guy the crowd wants to get behind. (Wade Barrett, Cody Rhodes, Dolph Ziggler…)


That fucking theme song.


Del Rio worked on Sheamus' arm the entire match in a credible fashion. After applying his finishing hold twice, Sheamus shrugged it off and simply kicked Del Rio to win. It felt like a tacked-on 'Hollywood ending' to a film that shouldn't have had one.


So the whole awesome Raw segment (that they played twice) was based around Cena claiming Punk would do anything to win a match as long as he held the belt…and the finish to an otherwise awesome match is Cena pinning himself. We don't go from A to B in WWE land we go to A to Q, realise it doesn't make sense, shrug our shoulders and run to Z.


Randy Orton telling us how he really feels.


Wrestlecrap!


Kaitlyn was injured backstage, apparently suffering from a sprained ankle so Eve replaced her in her DIVVASSS Title match and won it after some exciting exchanges involving nip-slips. The rumour going around a few weeks ago was Kaitlyn accidentally won the DIVVASSS Battle Royal, which I didn't pay attention to because LOL DIRTSHEETS. Now with Kaitlyn replaced by Eve with zero notice, I'm going to go with "Yes, Kaityln accidentally won a battle royal and yes, it is hilarious."


Let me try and figure this out…the finish to a Fatal Four-Way sees Sin Cara pulling his spare mask over The Miz, who then accidentally hits his finisher on Cody Rhodes and wins the match. Miz and Cody didn't an alliance so I'm still trying to ponder what the point of this finish was or if there even was one.


"Paul Heyman kept CM Punk in WWE when everyone else wanted rid of him" BLAHBLAHBLAH I don't care for any of this 'real-life stuff not properly explained on TV and aimed at internet folks' storyline malarkey.


CM Punk's moonsault.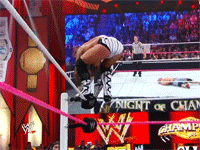 Overall!


There was reason for me to care all but two of the matches on the card (Del Rio/Sheamus and DIVVASS) and if you ignore some of the questionable decisions, the in-ring action couldn't be faulted. Even Sin Cara delivered, which is probably the highest compliment I can bestow on a PPV.