Good!


Opening vids are always good for BFG. I laughed when Chavo appeared because I forgot he was with TNA now. My reaction: "Oh it's Chavo."


Zema Ion lost the X-Division Title to Rob Van Dam. Questionable ending aside, RVD was sharp and Ion did his damnedest to make him look good. RVD was super-over with the initially loud crowd which made for an entertaining spectacle…even though RVD needed the X-Division Belt like Hogan needed a sex tape.


FROM THE ISLE OF SAMOA THE SAMOAN SUBMISSION MACHINE SAMOA JOE vs. Magnus was sweet. Crowds always love Joe and they love him even more when he's beating credible opponents (and not losing). Every match and promo Magnus has increases his credibility, so more power to him.


Daniels & Kazarian vs. Team Mexico vs. Team Might-As-Well-Team-Up-We're-Doing-Fuck-All-In-Singles was a mighty match with four people who have wrestled each other hundreds of times and also some Mexicans. Those Mexicans happened to win, good for them. Daniels, Kaz, Styles and Angle have helped boost the tag team division to respectable lengths but they can't wrestle for the belts forever, so I was happy The Mexicans won in a good match.


Rockstar Spud and Marty Scrull got name-dropped and appeared on camera. I missed Scrull initially, which is amazing considering he's the size of a takeaway van. Them appearing on TV is good news for all of us.


Sting & Bully Ray With Facepaint vs. Aces & Eights was decent enough as the match was a backdrop to the unveiling. The good guys lost (after Bully shockingly DIDN'T turn on Sting) after another member put Bully through a table. Hogan slowly came to TNA's aid and managed to get one of them, ripping off his mask to reveal…D-Von.


The crowd's reaction to this will live with me forever: As his face appeared, the entire crowd shouted "Deeevonn!!!" in the same way Buh Buh would do in the Dudleys. After that initial shock and subsequent shots of shocked faces from Sting and Bully Ray, they bust out a "This is Awkward!" chant and TNA cut to Borash backstage. FUCKING HILARIOUS.


Austin Aries dropped the title to Jeff Hardy in a good match that had nothing wrong with it…but still felt odd. A lot of reactions I've read have been overwhelmingly negative to this due to Hardy's past incidents (like this one!) but Hardy has looked his best since his career high (hur hur) of 2009. He's also a bigger draw than Aries, sad but true. Aries had a fun run with the big belt but it's not like he had a long-running feud or anything that defined it as an epochal reign. Hardy is the champion now which validates the BFG Series and gives us Aries/Hardy/Storm/Angle/Ray/Whoever matches on the top.


Calling James Storm vs. Bobby Rooo 'good' is an understatement. They've had the best feud in wrestling the last two years, which ideally would have ended at Lockdown. However, Storm needed time off for injuries so the conclusion looked to be bittersweet as Rooo lost the belt to Aries instead. At BFG, a line was finally drawn under the feud with Storm unquestionably getting his revenge. The easiest comparison is the tremendous Texas Death Match between Storm and Chris Harris (watch here) but Storm and Roode have improved so much over the years and the audience was so into it that that comparison doesn't do that justice. Amazing spectacle, the only negative being that it exhausted the crowd for nearly the entire card. My current pick for Match of the Year but please don't have them wrestle each other for like a year. Crying shame it didn't go on last.


Bad!


The Tara vs. FuckSpellingHerNameRight was…just there. The match was nothing special and the crowd realised only Tara had a personality. Tara won the match and the belt.


After watching the MV package of the Joey Ryan vs. Al Snow feud, I had no idea who was supposed to be the heel or face. The crowd didn't seem to know either, responding to the match with bewilderment. The whole feud has been too self-aware for me as it's TNA parodying TNA. TNA is renowned for hiring guys famous in other companies from other decades rather than making their own stars by signing the best indy wrestlers. But then surely Ryan is the face because YAY INDY and Ryan's been selling his 87% shirts on Twitter? Er, nope it was Al. The guy most famous for being in another company in another decade. Ryan wins due to Matt Morgan returning and kicking Al's head. Whilst this was happening, some guy with a Sonic Retro sign gawked for the camera. This gave me more fun.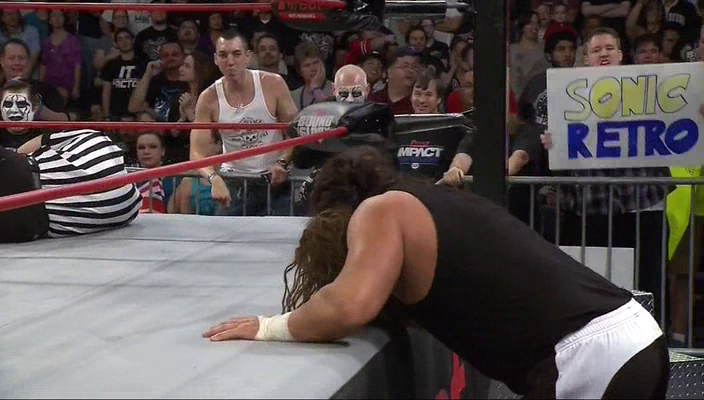 Wrestlecrap!


Every time Hemme appeared on camera, she looked like she'd been abruptly cut to and she was just winging the fact she wasn't ready. Her scary grin was reminiscent of Tony Blair.


I don't watch Bellator so when people kept on mentioning King Mo, I thought they meant the guy who used to tag with King Mabel.


If this was old TNA, King Mo would have become the Tag Team Champions at this point.


Kazarian's botch was god-damn crazy. He attempted a Frankensteiner off the apron but Hernandez didn't swing enough with it, so he had to take the bump himself and Kaz went -splat-


Chavo using Eddy's name to get a pop after his match (due to the lack of heat for the two mean beating four of the most over guys on the roster) was stomach-churning in it's patheticness. Chavo's been riding his dead relatives for so long his surname should be Chavo Guerrero Von Erich Jr.


After winning the belt, Tara introduced her boyfriend to the crowd:"You may have seen my boyfriend on TMZ!" which immediately made me think "Hogan?!"


Sadly it wasn't him. It was a "big star" from Big Brother (talk about a fucking oxymoron) called Boo who had a nice body. Crowd made zero noise for his debut, expecting some background information or more detail. Realising nothing was forthcoming, they assaulted him with "WHO ARE YOU?" chants. Wrestling fans by and large don't care about celebrities from other shows as they're there to see wrestlers. To debut Boo in front of a live-crowd with no build-up or explanation on a PPV is old-school (2006-2010) TNA.


Overall!


Everyone I've spoken to about this show seems to *want* to shit on it. Never mind the fine matches and performances throughout the PPV, let's focus on the shitty portions (which did exist). There will always be shitty segments or matches or something you don't agree with in wrestling, it's supposed to be varied. Whether you choose to ignore them or not is your choice, not TNA's.


TNA has been on a very positive run these last few months, to the point where they put out a PPV that is merely 'good' and people fall over themselves to declare the run 'over'. TNA has been so bad for so long that you'll either accept it's watchable now or you'll never accept them. So this review is redundant as most will have decided before they watch this show if they'll enjoy it or not.