The greatest Wrestlemania of all time (because I'll be there) is near so let's look at the card and assess the levels of hype. I'm typing this up on Monday before Raw because I'm flying out on Wednesday and need to decide which wrestling shirts to fit in my bag, so CARD SUBJECT TO CHANGE and all that. Also I've no idea what the order of the card is so bare with me.


Charlotte vs. Sasha Banks vs. Bayley vs. Nia Jax


Hey great it's the entire Raw Women's Division (not counting Dana Brooke because the others are wrestlers). This is literally the only match they could do for Wrestlemania because they've done all other variations to death on PPV and Raw. The matches have been fine (apart from a few ropey Bayley bits) and this will likely deliver but the best match from Wrestlemania 32 has had more sequels than The Land Before Time so they need to switch these wrestlers/brands up pronto. Also, why's Nia Jax smiling in her graphic? She's not like most girls;.
What I hope for: Sasha Banks not dying. Bayley retaining.
Neville vs. Austin Aries


I hate to be the fan that goes and cheers the bad guy, but Neville's from Newcastle and there's not many positive role models around here so it's going to be tough. Getting injured on NXT turned out to be a blessing in disguise for Aries, he was able to be on TV every week as 205 Live got through those awkward first few months and got to be over by commentating and playing with bananas. So when he finally made his return, the crowd were as loud as a 205 Live crowd can get (so mild). Neville's suffered from being TOO good as a bad guy, especially when the things he's been complaining about have been relatable (earning his way into WWE before the CWC division, getting injured and missing out on the tournament, hating Gallagher for being a fake-Brit etc.) but since picking on Aries he's been a proper prick. If it's anything like Neville vs. Gallagher, the match should be canny mint, like.
What I hope for: Our section singing "Neville, Neville, Neville" to the tune of No Limits by 2 Unlimited until he shouts "shut up peasants" and we boo him. Aries will probably win though because life is unfair.
Dean Ambrose vs. Baron Corbin


Two of my favourite guys that get shit online. Hoping for a silly gimmick stipulation involving a forklift to make up for Ambrose's waste of time from last year. Dean's been in serious mode on Smackdown which is much better than the wacky cowboy hate wearing Raw version. Baron's been on a good run, people forget he lost to Swagger on TV last year which would have killed a lesser wrestler. Also it doesn't matter if Corbin does a 450 Shooting Star Press, people will still be discussing his tummy and/or hairline.
What I hope for: Corbin winning and doing the Pitfighter celebration afterwards.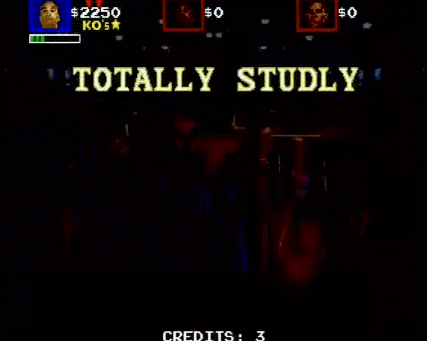 Luke Gallows & Karl Anderson vs. Enzo Amore & Big Cass vs. Cesaro & Sheamus


They haven't made a graphic for this yet. My OCD is stinging. Like the Raw Women's match, this is every non-jobber tag team on Raw in the division to make things look busier than they actually are. I'd prefer a normal tag match but there's no real feud here now New Day have ascended above the titles but at least Gallows & Anderson aren't bad jokes anymore. Sheamus & Cesaro have turned into a fun tag team but this looks like filler and an opportunity for the crowd to sing along with Enzo & Cass.
What I hope for: I'm guessing Enzo & Cass win and then feud with the tag team they didn't pin for the titles.
Shane McMahon vs. AJ Styles


In many ways, WWE is at a high-point in terms of quality wrestlers. Guys like Kalisto may stumble on occasion and Apollo Crews is a nothing personality but they're still years ahead of Sin Cara (original), Big Zeke, Great Khali and some of the other lumps that would stink up the place for years so we have it good. And then there's Shane McMahon, who shows up to insert himself into matches like a drunk fan jumping the guard-rail. Nothing he does looks believable in an industry filled with the zombie wrestlers and Sea Monsters. Yes he's a McMahon and he can do what he likes, the show will be about eight hours long so I'll need to take a shit at some point. I still like AJ Styles.
What I hope for: God himself appearing mid-match to apologise to AJ Styles for not being able to help him carry Shane to a watchable match as his powers are only infinite.
Roman Reigns vs. The Undertaker


I haven't cared about the build on TV at all, seeing as Roman is somehow still booked as a great bad guy (but he's a good guy so he's a shit guy) and Undertaker doing his usual HI GUYS I CHECKED MY CALENDAR, TIME TO EITHER COMPETE AT WRESTLEMANIA OR PIN THE WYATTS. But I know as soon as that "bong" hits, I'll get goosebumps and none of the crappy build will matter. Roman usually has good PPV matches, it's only his character and promos that suck so hopefully Undi' can keep up in a non-gimmick match where the focus isn't on his opponent jumping off The Cell.
What I hope for: Roman beats Undertaker, actually turns into a bad guy on Raw by doing anything other than what he's currently doing.
Chris Jericho vs. Kevin Owens


Yeah! The match I'm most invested in due to how good these two have been for months (years). Jericho's comeback was the unexpected highlight of last year and Owens is one of my favourite wrestlers (and not just because he tweets me). These two have carried the Raw main event scene since August doing nothing but wrestle Reigns and Rollins but making it work by being daft buggers. And since the split during The Festival of Friendship, Owens has managed to make the fans finally boo him. Great angle, great feud, great build, great wrestlers.
What I hope for: Ahhh tough one. Owens tries to reconcile with Jericho but he doesn't fall for it and drops him like the end of Goldeneye: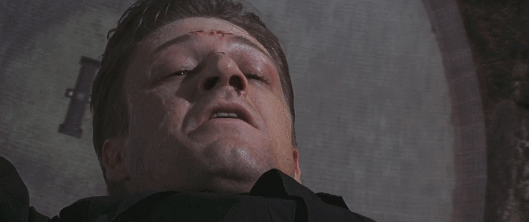 John Cena & Nikki Bella vs. The Miz & Maryse


Oh the segments building towards this match have been gold. Miz on Talking Smack has re-ignited his career as I give a damn about watching his interviews and Cena's been serious against Miz which has made for some impressive verbiage from him too. The promo package summing this up will be dandy but I'll be honest…I don't care about watching the match. "Wonderful, Maryse and Nikki will go at it!"  Oh. Still, great build.
What I hope for: Cena avenging Wrestlemania 27 and pinning Miz, then proposing to Nikki.
Alexa Bliss vs. Becky Lynch vs. Natalya vs. Mickie James vs. Carmella vs. vague promises


When the Smackdown Women's Division first started, they were doing these type of matches regularly and it wasn't effective for the division as a whole as you ended up with a bunch of moves and little reason to care about the wrestlers doing them. Naomi's injury obviously screwed some plans up, so despite some alright segments on Smackdown Live/Talking Smack this is the match with the lowest interest on the card for me as everyone generally dislikes each other a little rather than a major rivalry between two. The division is back to being the Cruiserweight Division circa 2006.
What I hope for: They've teased someone "else" appearing but not saying who. I guess…Beth Phoenix because she'll be there for the Hall of Fame. Winning the match? Er I'm saying Bliss retains because nothing else will mean anything. But if someone else does win, the crowd will chant "You deserve it".
Andre The Giant Memorial Battle Royal
Who cares?
What I hope for: That it'll be long enough for me to go get a small drink (that'll cost $50.) I'm guessing Ziggler wins it but if he loses I'll laugh harder than any of his jokes on Twitter.
Seth Rollins vs. Triple H (maybe)


By the time I'm typing this, fuck knows what's happening with this. Triple H inferred he can't wrestle Seth but he can fight him, so maybe it'll be unsanctioned and a whole load of stuff will happen. HHH is amazing as a TV character but like Vince McMahon sometimes he can be too good at his role and generate cheers. Thankfully being a dick to Foley has ensured that hasn't happened this year. Seth's been very lucky, his nice guy promos have been wank (as are nearly all of those brutal promos that are clearly written by someone who doesn't talk much. see also Reigns, Roman and Swann, Rich) and Chicago booed his recent "oh poor me" promo, but attacking HHH with his crutch and being a man got the crowd back on his side. So as long as Rollins lets his ring-work do the talking he'll be fi…ah shit he's injured. Oh fuck it then.
What I hope for: TRIUMPHHH
Bray Wyatt vs. Randy Orton


Orton's a funny one, as it doesn't matter how dull or tedious a feud he can be stuck in he'll still get cheered to fuck. Joining The Wyatt Family worked as it was something different and helped satisfy the nutty segment quota on Smackdown. Similarly, Wyatt winning the title freshened him up as he finally delivered on his promise to win something big and the crowds were ready for it. The real winner here is the brand split because there's no way this would have happened last year.
What I hope for:No way is Wyatt retaining against Orton at Wrestlemania. Wyatt feuds with Luke Harper afterwards, Randy moves onto AJ Styles feud.
Goldberg vs. Brock Lesnar


This is main eventing, right? Goldberg winning the Universal Title was a weird decision, but it makes a bit more sense using WWE-logic that they had to do something to spruce up the same mega-match they've already done at Survivor Series and Royal Rumble. Remember, Wrestlemania is for the normies now. The ones who don't watch every Raw, Smackdown Live and think 205 Live is an energy bar. They're the ones that hear "Goldberg" and think "1998!!", see "Lesnar" and think "UFC Champ!!!" and WWE looks into it's "bank account" and sees "fuck-load of money!!!" I enjoyed part-time Lesnar's reign as champ in 2015 because every appearance was important as he became the Secret Final Boss Brock. However, since losing to Goldberg he's lost a lot of his sheen but the alternative is Goldberg retaining. A no-win situation for the plot after Wrestlemania, but the majority of the audience for this match will have stopped watching by then.
What I hope for: Everyone chanting "Goooooldbergggg" as opposed to "You Sold Out" and "Hey-Hey-Hey Goodbye." I'm predicting a Lesnar win.
Typing it all out makes me think "hey this doesn't look that bad actually" but as I've told everyone else who has said it doesn't look good I DON'T CARE,  I'LL BE THERE LIVE. It could be the shittest Wrestlemania of all time, with the heavens opening and rain pouring down the entire time with lightning bolts flying at Shane McMahon and I'd still be happy.
Right, let's look at the announced matches for NXT Takeover because I'll be there too. Yes I'm bragging.
The Authors of Pain vs. #DIY vs. The Revival


Match I'm most hyped for. Loved DIY vs. Revival and enjoyed The Authors Of Pain vs. DIY. Usually three-ways make me roll my eyes as they turn into spot-fests but given Revival's old-school grounding  and AOP's big man style, I'm looking forward to the styles clash.
What I hope for: AOP retaining.
Asuka vs. Ember Moon
Ember Moon's the only person that could realistically topple Asuka, who is currently on a Goldberg-esque winning streak. NXT's Women's Division was gutted after Bayley and Nia Jax lest so if Ember doesn't win, God knows what they'll do.
What I hope for: Ember Moon to win.
Bobby Roode vs. Shinsuke Nakamura
Nakamura had that amazing match last year with Sami No Announced Match Zayn but Roode's time is now. Reports of Nakamura moving to Raw surely have to be rumours as NXT's weekly show is light on headliners, but it hasn't stopped WWE before.
What I hope for: Roode's entrance. Oh and Roode retaining because I like Nakamura but I don't want him as champ.
Hopefully Ohno, Almas and the debuting Aleister Black get something to do. Sanity will probably get a six-man against Team Mid-Card too.
Aside from Wrestlemania & NXT, there's SIXTY-SEVEN wrestling related events in Orlando, which is fucking insane. So here's a brief look at some of the events that I'm involved with or they're giving me free tickets to plug them.
Internet Darlings, hosted by Wrestling With Wregret's Brian Zane and starring several other people who make things online to do with wrestling. I only know Adam Blampied of WhatCulture and he's a canny chap in real life so hopefully you can have fun hearing people talk crap about wrestling for a bit.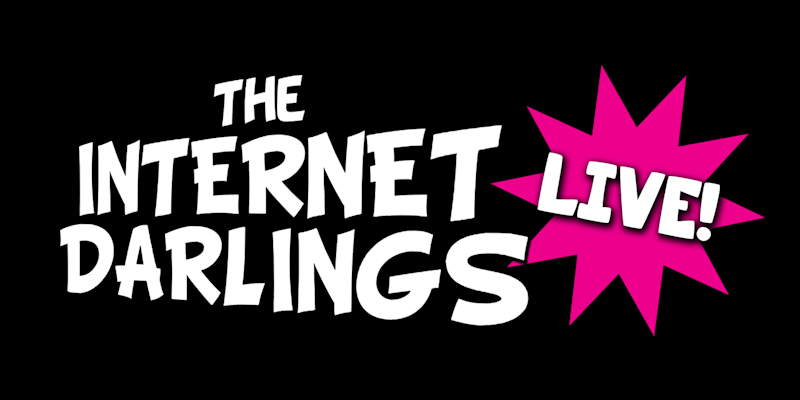 OSW Review are appearing as guests at Wrestlecon so you can see what they look like in real life and listen to them be funny. And I dunno, shake their hands and take photos. Use your imagination and mention the Simpsons.
Joey Janela's Spring Break. There's not many events that embrace the party atmosphere I was expecting but this is definitely one of them. Marty Jannetty! Dink The Clown! The Invisible Man! Earl Hebner doing a run-in! Midnight show time!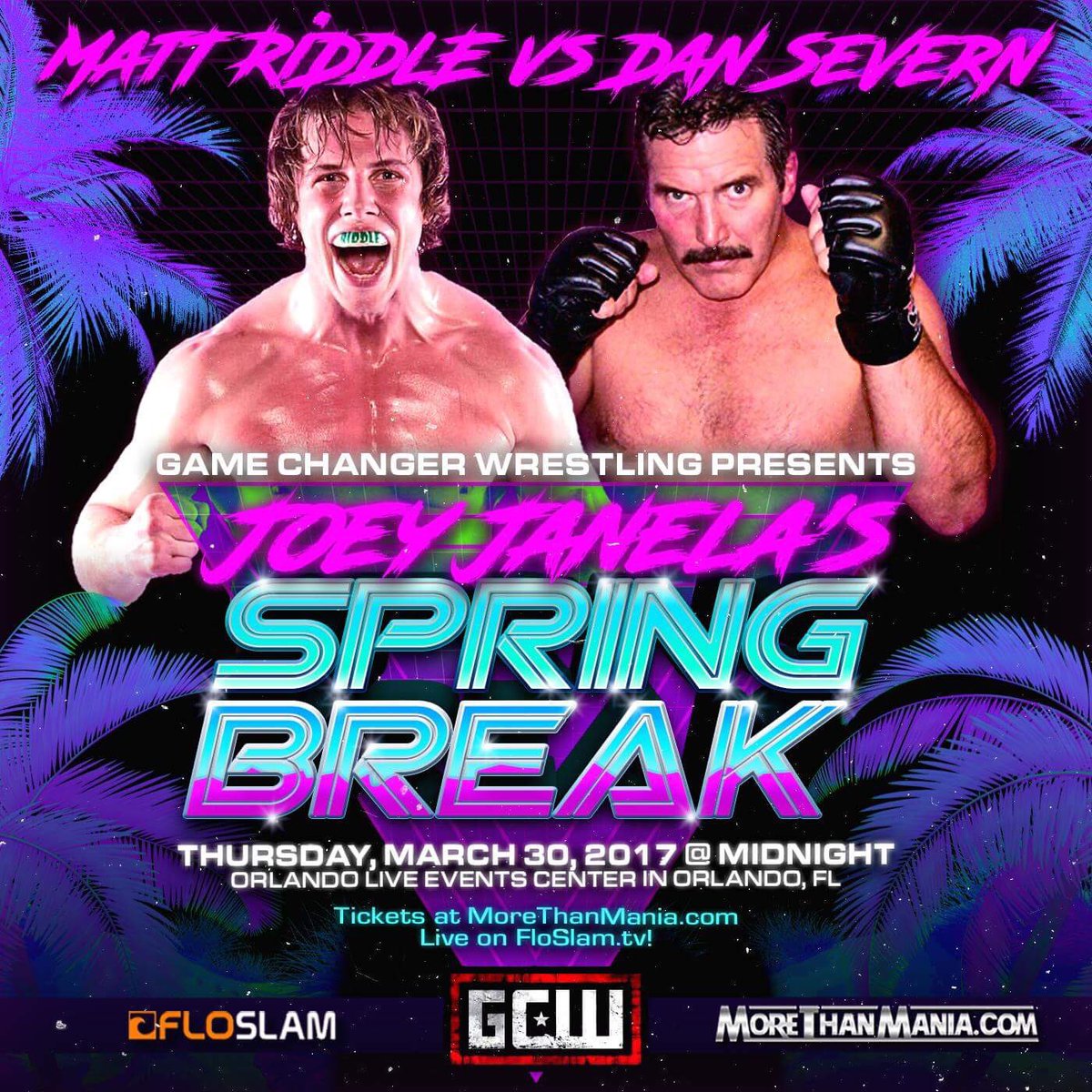 PROGRESS are running two shows! No announced matches for the first show, only the wrestlers due to large WWE-shaped shadow over the surroundings. But the second WWN mega-event Mercury Rising has the line-up here.
Capcom-endorsed rapper MegaRan's Matmania will be running with video game tournaments and live performances if you need to exercise your trigger-fingers.
Revolver Pro are running Pancakes & Piledrivers. I'm interested in the amount of great talent involved, my mates are looking forward to the pancakes so clearly they know what they're doing.
On top of all that, WCPW are running their first USA show (and I'll be on the same flight as some of the wrestlers coming in so I'd better plug that if I know what's good for me), Beyond Wrestling are running a midnight show after NXT Takeover called Caffeine (to hell with that, they should call it Extra Strength Cocaine) and Shake & Bass are running a post-show party after Wrestlemania.
And these are only some of the shows running, it's now literally impossible to see everything due to conflicting schedules. Oh and it's Orlando so there's SUN to absorb (this'll be a genuine highlight). And Orlando Studios. And Disneyland. Oh and hopefully IHOP and some other coffee/bacon outlets so I can introduce my friends to good USA eating.
Christ. I wonder if it's possible to OD on wrestling?