To balance the assumed-negativity of Botchamania, here's a look back at the good things of the week to save you some time if you can't be fucked watching 40 hours of wrestling.
TNA/Impact Wrestling/GFW Slammiversary XV 07/02/17

Also starring Crash, NOAH, AAA and probably your company by the end of the week. Regardless of who's running the company, this show was very enjoyable. Whether or not that'll mean anything in the long run remains to be seen but we got an all-spots four-way tag title match, DeAngelo Williams impressing in his first (and last) wrestling match with only three days training, Dutt vs. Ki, and Jeremy Borash & Joseph Park vs. Josh Matthews & Scott Steiner doing their best Broken Hardy impression. Only a few minor issues (like having two No DQ tag title matches back-to-back, woman's division is on it's arse) couldn't fuck with a good show. Alberto Del Patron defeated Lashley to win the title to hopefully get the whole GFW/Impact titles unified and they can move on to other things.
RAW 07/03/17

I enjoyed Raw this week, it was 75% promos and the ones for Enzo vs. Cass, Goldust vs. R-Truth, Miz vs. Ambrose, and Strowman vs. Reigns. Despite the shitty name, Great Balls Of Fire looks great on paper. Also happy Cesaro/Sheamus vs. Hardys are getting to redeem themselves after the crappy Escape Steel Cage with an Iron Man (men?) match. There's been times when Raw drags and drags but thanks to the ton of good promos I'm hyped for everything that isn't Rollins vs. Wyatt, especially after Braun did this to Apollo: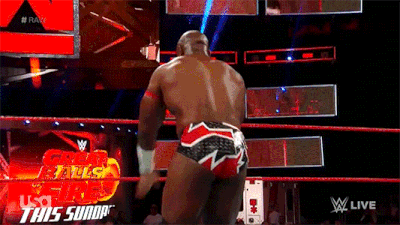 Smackdown 07/04/17

Famous rapper guy Wale (the second most famous person to follow me on Twitter, pipped to the post by Sonic The Hedgehog) presided over The Usos and New Day's rap battle. I loved it, not only for the jokes and references to that video you pretend to have not seen but also for the appearance of Capcom-endorsed rapper MegaRan as part of New Day's crew. We partied at Orlando and I may have beaten him at JoJo's Bizarre Adventure: Heritage for the Future. It's a bit of a blur, I was drunk so maybe I was staring at a disco ball while holding an unplugged pad. Chad Gable wrestled AJ Styles after apparently burying Jason Jordan in a nearby ditch and looked credible, even though I don't care yet and still want American Alpha.
Oh and then Styles won the battle royal and title shot for Battleground…and beat Owens last night at MSG. So get ready for a lot of click-bait speculation as to why, coupled with lots of "Kevin Owens tested positive for bacon" jokes.
205 Live 07/04/17

Titus O'Neil hosted the show to hype up Neville vs. Tozawa and I want him to do it every week. I love the Titus Brand made 205 look legit by talking shit with Neville who then killed Lince Dorado. Then Swann and TJP had a fine match that meant little, which sums up 205 Live.
NXT 07/05/17

Well Roderick Strong and Bobby Roode went 25 minutes so there was that. Roddy isn't at the PWG level of backbreaking bitches left and right yet but this match with Roode is a step in the right direction. I love Roode who is definitely the heir to Shane Douglas (when he was good)'s throne. It's the little things like glaring at Roddy's fiance after fucking her guy up that makes him special.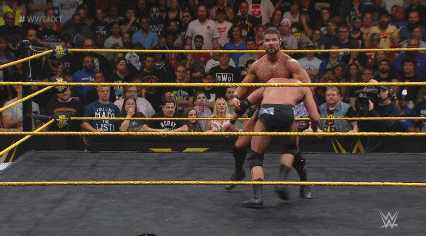 Impact Wrestling 07/06/17

They announced El Hijo Dos Caras was going to be coming in soon and I switched off and read the results instead. I saw him in WCPW twice and he's looked (insert whatever Spanish is for "shit") mierda-y every time. Which is good news for Botchamania, positivity!
Shame they went back to Matthews and Borash on commentary after Flores and West did such a good job on the PPV but at least they've stopped feuding. They announced a Super X Cup, an eight person X Division tournament for er, a big trophy and the cast of wrestlers sounds like we'll get some good matches, hopefully they'll remember to give them feuds and shit unlike the past four years.
Match Of The Week: Low Ki vs. Sonjay Dutt (2/3 Falls)

I nearly had the Steiner/commentators tag match here because of how much fun I had watching it but figured a photo montage would be better instead. Ki and Dutt may have been feuding because Dutt were touring India and needed someone who wasn't Shera to put out there, but thanks to Ki messing up Dutt's eye and also Ki losing (!!!!!!!!) on TV this has been the best thing the company has done all year. I'm a Dutt fan-boy so if you're not feel free to pick Roode vs. Strong instead.
Promo Of The Week: Enzo on Big Cass

"You're just a seven foot tall catchphrase…that I wrote!" Serious, non-pop-culture focused Enzo is great and he's going to get the shit kicked out of him on PPV so everyone wins.
News Of The Week: Austin Aries leaves WWE

The Torch is reporting he wasn't happy in the Cruiserweight Division/205 Live guy. Aries has a rep for being arrogant (which is sometimes wrestler-speak for "no I'm not going to work for hot dogs") and he's now able to charge more as an ex-WWE wrestler so good for him. Still surprised Neville beat him three times though.
Shite Of The Week: Cena returns

…and immediately lost all my hype by challenging Rusev. Oh Christ, not that feud again. At least it's different this time because Rusev is back to being Bulgarian so he can throw yogurt into Cena's eyes. Yeah that'll work. Honourable mention: Bray Wyatt sucking all the excitement out of a show with his nonsensical promos. Also Veep ending on a weak finale.
Botch Of The Week: Eli Drake's slingshot

There were plenty of botches on the PPV like the table no-selling the NFL dude but Drake's attempt at lucha wins because it never goes right and yet he always tries it. Drago fucked up a dive on the show too but he hits that move right most of the time.
Anything Else Of The Week: WWE's Top 10 Matches Of 2017 So Far
10. WWE Cruiserweight Championship: Neville (c) vs. Rich Swann

9. Women's Money In The Bank Ladder Match #2: Charlotte vs. Becky Lynch vs. Carmella vs. Natalya vs. Tamina

8. 205 Live Fatal 5 Way Elimination Match: TJP vs. Jack Gallagher vs. Cedric Alexander vs Noam Dar vs. Mustafa Ali

7. Roman Reigns vs. Seth Rollins (RAW, May 29)

6. Big Show vs. Braun Strowman (RAW, Feb 20th)

5. Shane McMahon vs. AJ Styles – WrestleMania 33

4. Triple Threat Match To Declare The #1 Contender For The Intercontinental Championship: Finn Balor vs. Seth Rollins vs. The Miz

3. WWE Championship: John Cena vs. AJ Styles

2. Triple Threat NXT Tag-Team Championships Elimination Match: The Authors Of Pain vs. #DIY vs. The Revival (NXT Takeover: Orlando)

1.) United Kingdom Championship: Pete Dunne vs. Tyler Bate (NXT Takeover: Chicago)
Thoughts: Any of Neville's matches can be on this list as far as I'm concerned, but the Gallagher feud has been his best stuff. Putting the second women's MITB match is a joke, Asuka vs. Nikki Cross or Becky Lynch vs. Mickie James beat that despite not being THE SECOND FIRST EVER EVER. Shane vs. AJ was better than expected but I wouldn't have it as one of the best matches of the year, come on. Everything else I agree with, watching the 3-way NXT tag match in the arena was insane. Would also mention Kendrick vs. Tozawa No DQ, Bate vs. Dunne 1 and Owens vs. Reigns from Rumble.
I'm going to make these articles regular to show I'm full of (mostly) positivity so next week will be better, until then here's the GREATEST GREATEST GREATEST theme that won't leave my head since they played it on Smackdown: