By Guest Columnist Claudio Bermúdez
Anytime you're filming LIVE TV, there is a good chance that you'll get some hearty laughs due to botchulism.
Wait, did we just make that word up? No. like all 'isms,' it is the practice of messing things up, botching things. You probably just got confused with botulism for a second. But that's a potentially fatal toxin, which isn't nearly as fun a botchulism.
In the spirit of Gallows and Anderson's new show Botch Club, let's look at a few of the best botches in the history of the sport.
Speaking of ginormous botches, what were they thinking with Wrestlemania 35 storyline (Lynch, Rousey, Flair)? Hopefully, the sports betting odds at top books don't suffer too badly.
5. Randy Orton vs. Kane Table Incident
Randy Orton is known for his falls and slams, but things got unintentionally taken to a whole new level in his 'SmackDown Live Street Fight' with Kane. As the battle moved outside of the ring, Kane blasted the monitors and other equipment off the top of the announcers' table. But the ever quick on his feet Orton quickly used this newly flat platform to his advantage, jumping on top of the table to get the higher ground and he began delivering fierce blows to Kane's big 'ol noggin. Suddenly disaster struck. Orton stepped forward, and his leg went through the table – probably a cable connection hole– and he went down, toppling the table and torquing his knee … or did he torque his knee.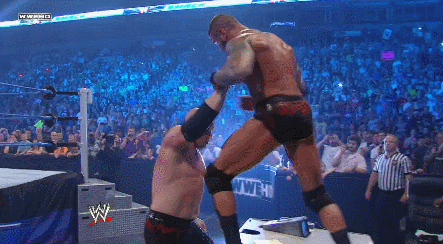 Ever the improviser, Orton laughed it off like he was feigning weakness, and then finished Kane off shortly after.
4. Wrong Place at the Right Time … Right Gay at the Wrong Time?
During the Hulk's rant at Vince McMahon, he stuttered on his lines various times, fumble through a spot about 'just being a guy in the right place at the right time' where he ends up calling himself gay a couple of times, as well as getting right and wrong mixed up. Then the Hulkster goes on to botch his lines about his previous match with The Rock. All in all, it was one of the funnier moments in completely botched Pro Wrestling dialogue.
3. 'Mean' Gene is no Match for 'Turtle Head'
After promoting some upcoming World Wrestling Federation action with classic names such as Junk Yard Dog, Texas Tornado, and Andre, the Giant, Mr. Wonderful comes on and complains about his popularity, then proceeds to call Ivan Putski a 'Turtle Head' and explain how turtle heads go in and out. At this point, Mean Gene loses his composure and cracks up.
2. Ryder Fights a Naked Man
Ryder faced Rory Fargo in a match that would have flown under the obscurity's radar forever … had not one of the most significant wardrobe malfunctions in wrestling history occurred? Rider grabbed Rory's skivvies to throw Fargo into the corner.
But, the unfortunate result was the seam breaking loose, exposing Rory Fargo's junk for the whole world to see. Rider was quick in recovering and finishing the match by pinning Fargo while trying to make sure that Rory's shame was covered from view by his forearm.
1. Shocking Shockmaster Debut at WCW Clash of the Champions
Rick Flair was trying to introduce Davey Boy Smith and Sting's new tag team partner, the Shockmaster when he was rudely interrupted by Sid Vicious and company. After some hemming and Hawing, and yack-jawing, Flair gets his announcement off and the Shockmaster busts through the with pyrotechnics and all … only to fall and lose his helmet. To make matters worse, he was wearing a glitter bedazzled stormtrooper helmet with blue jeans and a poofy shouldered open-bellied smock. It looked more hastily thrown together than a busy dad's Halloween costume for his poor seven-year-old son. Then came the voice … "Come at me, Sid" like a cross between Darth Vader and Yoda. Needless to say, the whole thing from concept to delivery was probably the biggest botch in wrestling history.